A Really Brief History of Website Platforms
Once upon a time, websites were online calling cards. Think about them like billboards that passersby might see while zooming down the highway of the internet.
Except that they often didn't.
Nobody was sure why they had a website, but they were very cool.
Then, a long time later, the age of dynamic websites came, and content was king. Sharing relevant content could get you to the top of Google's search results. For a while, people took this to mean they could reshare other people's content. But that usually plummeted them to the bottom of the search results.
People who shared relevant content in a consistent manner became beacons of wisdom and hope on that topic. People who didn't, or who shared plagiarized content—even content they paid for from unscrupulous companies—virtually disappeared. (Their websites did, anyway, since they was buried on page 3 or 50).
Updates, Updates, and More Updates
There came wave upon wave of Google algorithm updates: in recent history, Panda and Hummingbird, RankBrain, and the unforgettable Medic. Who can forget how the world scrambled to make sure their content was EAT (expert, authoritative, and trustworthy)—not just intrinsically, but in the way it presented itself, properly citing only sources that had recognized credentials on the topic?
Of course, websites that had always been careful with the sources of their content didn't need to scramble quite as much.
Still, each Google algorithm update required a hard look at the foundation of how a website was built, each back-end meta tag, every category tag, each image, and the type of code. Google favored speed, aesthetics, helpful content, and consistent updates—these things were driven by code, careful organization, beautiful imagery, stellar writing, and a stick-to-itiveness that most people, frankly, don't have.
Best practices in coding languages changed every year or two. Flash websites were all the rage in the early 2000s but enjoyed a shooting-star life, going out quickly in a blaze of glory (or not). (Come to think of it, "Flash" was an appropriate name for something that came and went so quickly, but it was fun while it lasted).
Websites built on clean HTML and CSS were favored by Google because they loaded more quickly.
Then in the mid-2010s, that all changed again as a 2015 release of JavaScript enabled websites to build on a language that had heretofore only been used to dress up a website. And so many website platforms, and the platforms they are built on, were built from the ground up again.
Increasing Focus on Accessibility
All the while, the tech world largely ignored the 15% of the population who were slowly being locked out of society's shift from physical public spaces to living life online, preferring to focus on speed, beauty, and whatever else would compete for the attention (and dollars) of the 85% remaining.
This all took place despite the Americans with Disabilities Act of 1990 and the Web Content Accessibility Guidelines 1.0 published by the W3 Consortium in 1999.
And we will be, of course, forever scarred by COVID-19 and the need for more sweeping updates—mostly for how to display how sensitive and careful medical websites were being in light of "these unprecedented times."
And then came mass web accessibility litigation, probably long overdue: a final way to get the attention of brands major and minor and turn it toward the need for the World Wide Web to be inclusive of all of us.
Web accessibility updates were some of the most staggering and expensive website updates in the history of tech, definitely much more complex than the Medic update of 2018.
Website Visitor Expectations
Over the years, website visitors' expectations have evolved as generations born into technology-rich worlds interacted with technology from a very young age. Interactive features that are novel at first soon become standard, and then someone else releases a new interactive feature. Today's potential patient's expectations are shaped by social media, apps, chat, and AI.
In addition to this, medical websites need to be HIIPA compliant.
Marketing Budget
The marketing budget of a website subscription platform is easier to plan for. As a monthly subscription, clients no longer have to consider a daunting investment upfront. Instead, providers have to prove the effectiveness and worthiness of the website platform. In addition, the subscription model allows providers to continue to update and edit the website platform as needed and neither customer nor provider needs to be concerned about sweeping changes to the tech landscape.
The Future
What will the next major unraveling of online properties be? Will it be driven by code, art, a pandemic, or a new wave of social consciousness? How will AI drive the ever-changing online landscape?
Who knows?
Historically, tech companies either ignore the massive changes, promising that they don't matter, and go out of business, or they create new products and draw on the trust built with their clients.
But those in the web-building, web-maintaining, content-creation world know, subscription websites are probably here to stay. Conscious companies prepared for whatever is around the bend have two things going for them:
They offset the major upheaval that changes bring by being ethical and design-conscious and using common sense in the first place. It was never OK to keyword stuff, and when the great Medic Update of 2018 came, companies that refused to adopt this quick ticket to success rose to the top (and so did their clients' websites).
They've invested in building trust.
Conclusion
Nobody can predict the next major change, but we can all predict that change will become more and more constant. As a result, subscription websites allowing builders and content creators to continually update websites to the next major shift in the technological or social landscape are probably here to stay. Static, once-and-done websites are a thing of the past.
For several years, the Jameson group has been building a web platform that can flex with each change that comes along. We were building web accessibility into our websites before the wave of lawsuits about the same. Instead of paying a large up-front sum to launch a robust web platform, we now provide it on a subscription basis. This leaves our clients in charge of the engagement. Clients are free to move away from our web platform when it no longer meets their needs. Of course, we don't think there's anyone who understands dental websites and technology better than we do.
Learn more about our website platform today.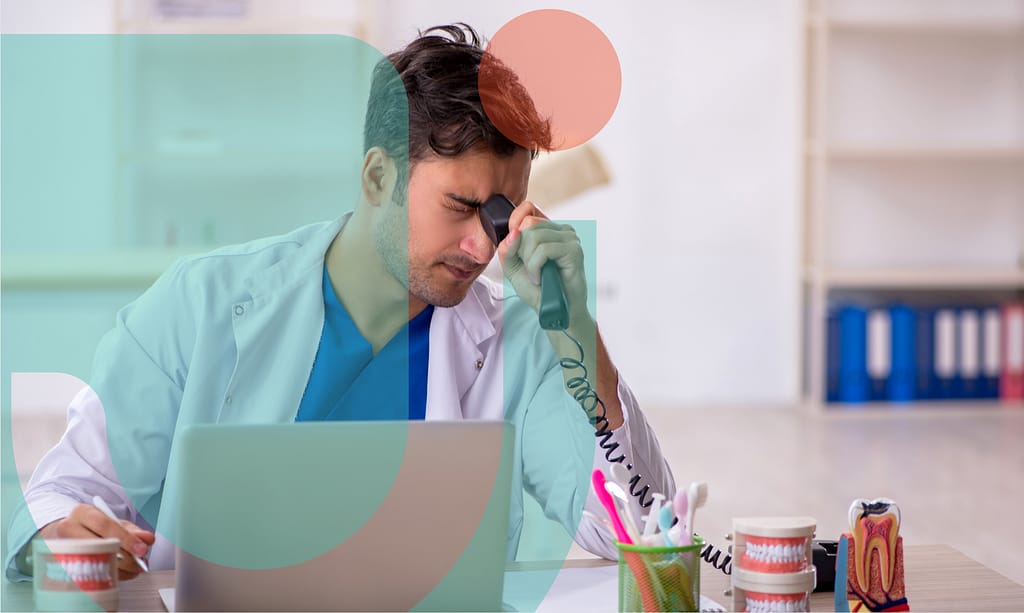 How Workplace Stress Affects Your Dental Practice Growth With the right team members, it's possible…
Why Patient Texting Is Becoming the Name of the Game in Patient-Doctor Communication In today's…
LATEST BLOGS