Our transcript of the discussion between Dr. Mark Hyman and Jameson Files host Carrie Webber has been lightly edited for flow. To enjoy the audio conversation, you can watch on YouTube or listen to our podcast on iTunes, Google Play, or Spotify
Dr. Hyman Recounts His Lifelong Commitment to Continuing Education
Carrie Webber:
Welcome to the Jameson Files. I'm the Jameson Files host, Carrie Webber, from the Jameson Group., and we are thrilled to be recording this episode of the Jameson Files live at the American Dental Association's SmileCon 2022 meeting in Houston, Texas. I'm also thrilled to be sharing the main stage with our dear friend, colleague, Jameson client, and truly Jameson friend, Dr. Mark Hyman. So Dr. Hyman, thank you so much for being with me again.
Dr. Hyman is speaking once again at the ADA meeting this year, two times a day. He's been a speaker and an educator for over 20 years at this point. And that's above and beyond the extraordinary practice he built. Dr. Hyman is an adjunct professor at the UNC Adams School of Dentistry. As a key influencer, speaker, and educator across the country, he has been recognized as a leader in continuing education for dentists for years and years. Truly, truly a remarkable contributor and gift to the dental community, helping to motivate and educate doctors and teams to realize their ideal vision for their practice and how to elevate patient care.
The Power of Education for Dental Teams
Carrie Webber:
So, I wanna take an angle in our session today. You've been a guest on the Jameson Files podcast before, and today I want to take a different approach and talk about the power of education and continuing education for dentists and their teams, and also the power of education with our patients.
So let's start with you and your story. You know, we know your story as a dentist and the amazing practice that you built for yourself, but I'd love to learn a little bit more about your story as an educator. What has led you to where you are today as the prominent speaker and educator that you are?
Worst First Semester Story
Dr. Mark Hyman:
Sure, Carrie. I appreciate that. Why am I here? You know, I would probably be considered the worst first semester dental student in the history of the UNC Adams School of Dentistry. I was our class president, cruising along, and midterms came, and I got crushed and barely made it out of first semester dental school. The first week back of spring semester, on Thursday night, I quit. I knew I couldn't be a dentist. I'd never make it, and I hated every part about it. But a young professor, Dr. Ron Straus, saved my life. I went to the dean's office, told him I was gonna quit, walked out, and ran into Professor Strauss. He just said, "Mark, it's okay. Being a dental student is nothing like being a dentist. Give it another hour. Give it a day. See how you do."
I resented how we were taught.
And I did. I muddled my way through the spring semester, started in clinic, and graduated in three and a half years. So, I kind of went from worst to first. But I resented how we were taught. There was so much intimidation and humiliation, and it just didn't have to be that way. That's not the way to motivate excellence to me.
First Speaking Gig Fiasco (Almost)
So when I was a resident at UNC, I got to do the orientation for the first year dental students. And I thought that's kind of cool. And then three years out of practice, Professor Ron Strauss asked me to come back and tell my story to the first year dental students. Being the excited young speaker (not), the thought of going back to the dental school…? I've got diarrhea and I'm nauseated, and after I worked in the morning, I jumped in my car … and I'm outta gas.
I fly to the gas station, fill up, jump back in. And I hear a rip. I've ripped my pants from my belly button to my tush. And I'm like, ah, I'll be behind a podium and no one will see my pants are ripped. Then I thought, Idiot, get outta here! I flew home, got a pair of pants, drove to Chapel Hill, 90 miles an hour, run into the room, the audience, the students, were already waiting for me. I'm 10 minutes late, I'm sweating, I'm nauseated. …
I ran up and said something, and a couple of 'em laughed…
I ran up and said something, and a couple of 'em laughed, and I said something else, and a few more laughed, and I said the third thing, and they started howling, and I finished and I got a standing ovation. And Professor Strauss came up to me and said, "You just had a magic moment there. You don't get many of those." And I was like, "I don't know what that was, but I wanna do that again." So I've done the intro to private practice class at UNC for 32 years. Since 1989 I've taught every first year dental student.
At the Pankey Institute
So, I muddled my way through some small study clubs and basically my results were, "Eh, he's a nice guy. He's trying hard." But it wasn't impactful. So that was 1989. In 1990 I started at The Pankey Institute where I went every January through six years. Then I got to teach there. And one of the Pankey precepts is quid pro quo—to whom much is given, much is expected—you're expected to give back to the profession.
So I had the calling to try to spread the word for our type of dentistry. I did my first study club in 1993. The payment for that meeting was, they paid for my dinner. You gotta like that. At least I had that going for me.
A Winning Gig in Front of the ADA Scouts
And then, Dr. Dennis Shinbori from the CDA was dear friends with a friend of mine at UNC. I saw the ADA was gonna be in Hawaii, and I thought I'd like to be paid to go to Hawaii. So I called my friend and said, "I wanna speak at the ADA." And she kind of looked at me like, you're on drugs, son. I'm like, yes I am! She said, "You don't do it that way. You have to be scouted. So I'm gonna try to get you on the CDA at Anaheim." So in April, 1999, thanks to Dennis Shinbori, I had my first gig in front of the scouts.
And with the CDA, you pay your way there, you pay your food, you pay your hotel, but you get an hour, right? And one hour before I was supposed to start, I'm in the Ho Anaheim Hilton with my wife and our three kids. And I absolutely decompensated. I'm like, I don't have an opening story. And I'm stomping around the hotel room, and my brown eyed girl, Danielle Rose, tugged at my sleeve. My eight-year-old Danielle. And she looked up at me with those beautiful brown eyes and said, "Dad, what if nobody comes to hear you?" And my wife, my jersey girl, said, "Honey, these Californians can be tough. So don't try to be witty. Don't try to be clever. Don't try to be cute. Just be yourself."
And from that one meeting, I got the ADA, AGD, Yankee Chicago, greater New York, Hinman, TDA, Florida…
And that was my opening story at the CDA. And from that one meeting, I got the ADA, AGD, Yankee Chicago, greater New York, Hinman, TDA, Florida…. I ran the table and the rest is history. So that was pretty cool.
Dental Educators That Motivated Dr. Hyman
So again, I bought basically a bankrupt private practice on July 1st, 1986. My third month of private practice, I heard Linda Miles speak, which was life changing. Then I heard this woman from Oklahoma, Dr. Cathy Jameson, who just blew me out of the water. So in April of '99, I spoke at the CDA in Anaheim in May. Dr. Billy Dorfman from Beverly Hills had the Discus dental meeting. He and I had a conversation, and he put me on the discus meeting, took all the speakers to Cirque du Soleil "O" at the Bellagio and sat my wife and I next to Doctors Cathy and John Jameson.
And that changed my life.
Dr. Cathy Jameson just blew me out of the water.
So then I took my team to hear Cathy speak, and they were blown away. So we started working with Jameson Management and Consulting. And that was impactful at a partnership that wasn't working out. Dr. Cathy Jameson spent a full day with my partner, trying to raise her game. Then we lovingly decided to part ways, 2005. I got fired, moved to my new building, Cathy came back in, and we went all in with coaching and consulting.
Rocketing Profitability Came With Jameson Coaching
Every four months, we had two days of in-office consulting. I had a monthly management call, leadership call, and a weekly marketing call. So I say to my students, "Coaching's expensive, isn't it?" And the answer that the UNC students will give is, "Compared to what?"
And my practice grew over $500,00— working fewer days per month!
So I probably paid, I'm guessing at that time it was like $40,000 for coaching in a 24-month period? And my practice, my million dollar practice, grew over $500,00— working fewer days per month! Now that sounds ridiculous, doesn't it? To grow $500,000 while working less days per month. What is that over 24 months? It's one extra tooth a day. It's one extra crown in your eight hour day.
Having elegant coaching and consulting that looks at your 25 systems and just tweaks each of the systems, the white average Jameson client goes up 25% to 30%. I only went up 52% in 24 months—and kept growing after that. So that was the gift of constant coaching and leadership training and marketing training.
And I've built that into my seminars: You don't have to humiliate a student to learn and grow. You don't have to humiliate a teammate to inspire them and turn them on. You just have to give 'em predictable systems and train 'em and get out of their way. So that's been the gift to me that your family and your organization gave to me. Cuz I was a wild man, bouncing from room to room, putting up big numbers, but in misery. And just by refining the systems—it gave me such joy, better patient care, better team retention, better profitability, and a lot more fun.
Continuing Education: A Foundational Principle of Dental Practice Success
Carrie Webber:
You know, at this meeting in the opening session, they had Brene Brown who presented, and something that she said that I thought was really amazing was about education and being willing to be a continual learner. She said something like, "You don't want people that know it all. You want people that want to learn it all." It's brilliant. And I was really moved by that because I think those of us that are in this realm of education are continual learners, and we want to create and instill in dental practices and in the profession a culture of continuous learning.
And you really did establish that as a foundational part of your practice vision with your team. You took your team members through a wide variety of education. You were giving them clinical education. You were giving them leadership education. So how did that impact them and how did that impact the practice for you as a culture?
Staff Wants To Learn More
That's a great question. My superstar dental assistant, Athena Escovedo Calloway, my 19 year dental assistant, had left her last practice when she asked her former boss, "I'd love to have some continued education." And he looked at her and said, "I just don't think you need it." So she fired him and came to see me. She stayed almost 20 years.
So, I was the first or second CEREC user in the state of North Carolina. Mm-hmm. I think it was in 1997. And I got the thing, and I'm computer illiterate, so I had one of the teammates trained on it, and then they quit. And I'm like, "Oh man, I got this equipment. I don't know what to do, so I better learn it." But I talk to my audiences about focusing on CEO-doctor-only procedures and training the team and getting outta the way for them to do all the other things.
So she fired him and came to see me.
So why would you leave my practice if you get to play with the CBCT, get to play with the intraoral cameras, with the isolite, with the buffered lidocaine, with all of these things that make such a colossal difference in your practice?
Cross-training the Team
Cross training is huge as well. Because in the days of COVID, when someone's out sick, it's not good enough to say, "Well, we would do your CAD/CAM restoration, but the person who knows how to do it is not here." So we had all the business team x-ray certified. So they'd go in the back and take an emergency PA, emergency CBCT, an emergency Panorex, they knew how to run the autoclave and the Statim, the whole clinical team could go up front and check in a new patient, use our Weave software, apply for Care Credit, get patients to give us five star reviews. With that kind of training, not only is the team more valuable, but you appreciate each other more.
I tried to bring in a lot of management and leadership principles of how we would treat each other. Inside of dentistry, my time at the Pankey Institute and Spear Education changed my life. Outside of dentistry was Dale Carnegie training. And I say to my audience, "Why would you wanna study material titled How to Win Friends and Influence People?" Or How To Stop Worrying and Control Your Stress. So that was huge. And I've had some people say, me, "Dr. Mark, let me get this straight. You spent $2,000 on each teammate to do Dale Carnegie training. What happens if they leave?"And I said, "What if you don't spend $2,000 training on them and they stay?"
"What if you don't spend $2,000 training on them and they stay?"
5-Star Team and Beyond
I've had people look at a picture of my team and say, "Well, you just got lucky. You got all these great teammates." And I'll say, "Look at this picture. Every one of them worked for someone else, left them, came to me, and stayed, because I loved on them and inspired them and trusted them and trained them and got out of their way.
For me as a dentist, I set a goal to do a hundred hours of education every year. To get my fellowship at the Academy of General Dentistry, my Mastership award, I went through the Pankey curriculum, the Spear curriculum. I heard Pete Dawson, I heard John Kois. So I was crystal clear that I wasn't that bright and that talented, but I was a worker.
I had a classmate of mine come up to me at one of my seminars, Carrie. He said, "Mark, I'm doing it just the way they taught me in dental school." I'm like, "Back off, sailor, I'm not doing anything the way they taught me in dental school. The principles of quality don't change. But man, the materials do, the techniques do. Why would you brag you're doing something that's 40 years old? That doesn't make sense."
And the other piece of this: look at who you meet at CE courses. The losers of dentistry don't work with consultants. They don't buy the high-tech equipment and train their team. They don't go to these courses. At a dental meeting like this magnificent ADA meeting, the lectures are sensational. But then you meet with colleagues and friends, or you meet people at breakfast, lunch, and dinner and say, How did you hire? How do you fire? Which consultants do you work with? What books have you read? What podcasts? What webinars?
Three magic words from the Dale Carnegie organization, "Success Leaves Clues."
Carrie Webber:
Yes! And you know, when we talk with doctors wanting things to be different, often they're coming to us because they feel overwhelmed by the amount that they are responsible for in the day-to-day tasks of their business. And education and training for your team allows delegation and the building up of leaders within your team so that you can delegate out and you only have to do what only you can do. Because eventually doctors that aren't delegating and haven't built up a culture of leaders in their practice are limited by their own capacity.
And that was another takeaway I had of what you shared. You had people that sought you out to work with you because somewhere you had established this vision in your practice. Word gets around about where people can thrive and develop and grow in their professional career. And when you make space for that, and you are intentional about creating a culture like that, the right people start to come to you. And that, I feel, is the story of your practice.
Recognizing the Power of Abundance
Dr. Mark Hyman:
It's so true. A term that I absolutely hate is "UCR" —usual, customary, reasonable. Is that something to be proud of? Hey, we're the UCR dental office, we're average! And I'm like, I don't wanna be anything UCR. I don't wanna treat my team that way. And I hope young dentists listening to this and the more mature ones will recognize the power of abundance instead of scarcity. Why wouldn't you train your team? Well, they're gonna want a raise. Well, if they go all in on Jameson training, and we grow $500,000, am I gonna share the love? Absolutely! Look at the impact on my practice. Look at the impact on everybody's life.
A term that I absolutely hate is "UCR" —usual, customary, reasonable.
For me philosophically, Carrie, and I don't know how many of your offices do this, but our rule is that I would pay for continued education for anything the teammates wanted to take inside or outside of dentistry. If they had a course or a program at their church, synagogue, mosque, and they wanted to do it, I'd pay for it because it makes them a better person. Happier at home, a better communicator, a more peaceful warrior, whatever it is. So that just seemed to be common sense to me.
I took the whole team. I said, "Here's the top four softwares. You all go test drive them. Tell me which one you want. I'll pay for whatever you want. Whatever you think is in our best interest."
When we dabbled with orthodontics in the practice, I did training in Six Month Smiles and Invisalign. So, being the type of leader that I was, I sent my dental assistants first for the training to say, "Will we do this in this office? What will your role be? If I invest in you, will you go do the training?" That ignorantly was a stroke of genius by me, because the team bought into it. When it was time to decide what software to use, we went to the Hinman Dental meeting in Atlanta. I took the whole team. I said, "Here's the top four softwares. You all go test drive them. Tell me which one you want. I'll pay for whatever you want. Whatever you think is in our best interest." So, again, I want our doctors to focus on CEO-doctor-only decisions, the big impactful boulders, and train our magnificent teammates to do the other things.
The Art of Educating Patients
Carrie Webber:
Well, and that is a perfect intro to another question that I have for you. By nature you have this desire to continuously develop. You don't wanna go stagnant, you wanna be continuously improving. You start to attract that in your team. You start to make that a reality with your team. And in doing so, you're not just developing their skills in the utilization of the technology and the tools and the systems that you were integrating into your practice so that it would run well. At the same time, you were leading them to grow in communication and supporting you in presentation of treatment to patients and in leading patients to case acceptance and patient loyalty.
So tell me about education from that role of educating patients. What was the trickle effect in that? What were some of the things that you did or the tools you used or the skills that you all developed that helped in the education and the relationship development, trust development, and ultimately loyalty of your patients?
Dr. Mark Hyman:
Well, one thing that Jameson Management twisted my arm to do was take my #1 producing hygienist out of the clinical arena and make her the treatment coordinator, which I thought was the stupidest thing I'd ever heard in my life. Are you kidding me? I got a dynamite hygienist that's crushing it at chairside. Why would I take her out of the chair? So some fool with two PhDs suggested that to me and I fought her over it. And finally I said yes.
Finally I said yes.
Six weeks later, this teammate as treatment coordinator had added $80,000 of treatment. In six weeks!
She had time to do what she was trained to do—go through the charts. You see who's with Care Credit, you get your list of open to buy, you look at the diagnosed and undone treatment where you've already got comfortable financials just sitting there unused. She had time to talk to the patients and not rush 'em in and out.
Stop Telling, Start Asking
Carrie Webber:
Well, you know, the last time you were on the podcast with me, you said, in terms of treatment presentation, that the moment you stopped telling patients what they needed and started asking patients what they wanted, everything changed. When you started engaging in a conversation differently with the patients and allowing them to be a part of that discovery process, they were more engaged. They were more receptive. They didn't feel threatened or pushed upon to do this treatment. It's something they were exploring with you in order to make a healthy decision. And I feel like that's what you did both with your patients and with your team.
Dr. Mark Hyman:
It just makes sense to me. I have that slide in my talk from the webinar that I did with you, as you said, "When I stopped telling patients what they needed and started listening to what they wanted, everything changed."
When I stopped telling patients what they needed and started listening to what they wanted, everything changed.
Carrie Webber:
It doesn't change that they need care. It doesn't change that you are the diagnoser. What changes is how we engage in that conversation with them.
Dr. Mark Hyman:
You don't tackle people at Walmart and bring 'em into your office. They walk in voluntarily, which says to me they're interested in buying some level of healthcare. So shouldn't you have the courtesy to say, "You tell me in your own words how healthy you want to be and how soon you want to get there"?
We should be asking, "Why'd you come in? What's important to you? Who are the decision makers? What's your budget? Tell me what success looks like and you." And just sit back and listen. And it's hard for my students because they weren't trained that way. I've had a handful of people say, "Well, you're just a slick salesman." And I'm like, "Is it slick?" Because it seems natural. It seems right. I don't want to do treatment on someone that doesn't want it. That's a quick way to an unhappy patient, a one star review, a lawsuit, someone saying, "This crown never fit, and I'm not paying for it. I want my money back."
My dear friend Keith Phillips who teaches with me at UNC has an expression which I love: "Your patient is always right. They just don't have to be your patient." It's okay to tell them, What you need is not what I do. Let me help you grow elsewhere."
Carrie Webber:
And it's really important to know who you are as a provider, as a practitioner, and as a practice. You need that clarity so that you can explain who you are and how you care for patients, so they can make the decision for themselves as to whether this is the right fit for them. And that needs to be a part of the message in your marketing, when you're having that initial patient phone call, when they're coming in for that new patient appointment. We need to be the spokespeople for the purpose and vision of the practice so that those patients can decide if it's what they want.
Have a Safe Space for Patient Consults
And something else that I learned from you and from my father is about the sacred places. Sacred places and spaces. You really bought into using a consultation space to have conversations with your patients. And I think some practices do that really well. Some practices don't even have a consultation room. And some practices have it and don't use it because they feel like they don't have time for it or they don't know how to choreograph that in the patient's experience. Would you agree that having that consultation space for you and your treatment coordinator to have conversations with patients made a difference?
Dr. Mark Hyman:
An extraordinary difference, Carrie. And just think about it. I ask my students sometimes, "What's the biggest purchase you ever made?" And they'll say maybe $5,000 or $10,000. I'm like, "No, your education for $250,000, $500,000, or whatever it was." But think about the biggest purchase you've made in your life. Did you make that purchase lying back in a chair with a bright light in your face? Or did you sit in what felt like a living room, a comfortable den, or a safe space?
You get to say to patients, "It's your body, it's your health. You guide me."
Think about the biggest purchase you've made in your life. Did you make that purchase lying back in a chair with a bright light in your face?
Sometimes we look at a patient and think they're not going to value optimal care dentistry when that's not the case. That's what I learned from Irwin Becker at the Pankey Institute. He looked at me one day and said, "Mark, the reason most of your patients haven't accepted optimal care dentistry is no one ever offered it to them."
Because someone's young, old, white, black, green, yellow, Jewish, Christian, Islamic, agnostic, we assume. But you don't know! It might just be they're a farmer that whips out wads of hundreds.
Carrie Webber:
And I think it's the communication and having that space to do it, because ADA studies show year after year, when they survey the patients about the reasons they don't go forward with treatment, the top three reasons are cost, time, and fear. And if fear is one of the top three reasons, and we're presenting treatment to them with a bib on, in a chair, that's causing them even more anxiety and fear. And our goal ultimately as healthcare providers is to educate, right? To help educate the patients on optimal care.
What part of that education are they going to retain? Think about it from the lens of the patient. We get so caught up in how busy our day is and how we've got another person in the chair in another room, and we're forgetting that part of the patient's journey is such a key piece to their decision.
No Pressure
Dr. Mark Hyman:
If they feel coerced, they're not going to value what you did. You look at them and say, but my margins were gorgeous. And they're like, but I wasn't ready for this. They didn't own it. And this is a really key point. If you don't have time to establish a relationship and have comfortable financial arrangements and let things marinate a bit, your patients are going to feel pressured.
I had the privilege of treating some of the wealthiest families in North Carolina, Virginia, South Carolina… and men and women of incredibly modest means that a single crown was not easy for them. But like my father said, you can lift an elephant if you cut 'em into small pieces.
So I love to ask my classes, "How much is a crown in your practice?" And people will quote all sorts of numbers, and I'll basically say, "How many cups of Starbucks a day?" So maybe it's $3 a day for a year. It doesn't matter what the number is, but you break it into something that patients can say, "Yeah, I'll spend $3 a day for a year. or $4 a day for a year for a $1,500 crown buildup." That's a lot of money. But it's $3 to $4 a day to keep a body part. If you get 10 years out of this, you'll have spent 10 to 15 cents a day to keep a body part. What a gift!
Carrie Webber:
Well, and you know, when you think about the cost being the number one deterrent of treatment acceptance, that also supports having a consultation space, using your tools, using photography, using before and afters, having a place where you can have those conversations.
I actually am an anxious patient. You know, I'm the daughter of a dentist. I should not be, but I'm anxious about treatment, and I have had the experience of significant treatment being presented to me while I was in the clinical chair laid back. And I couldn't get out of that place fast enough. Not because I didn't value what they were saying to me, but I was so emotionally overwhelmed with what they had said to me. And they assumed because I was John Jameson's daughter, surely this is no big deal. I'm just gonna tell you right now: that was incorrect.
Dr. Mark Hyman:
The same thing happened to my daughter where somebody presented an extraordinary treatment plan to her when she wanted a little bonding on tooth number eight. And she was devastated. And it just, it kills me. So part of what I hope the audience owns is to say it's not enough to go through the Pankey Institute, through Spear Education, through Dawson, through Kois. It's not enough to just say, well I'll pay for Dale Carnegie, but I'm not gonna do it. I'll buy all this equipment, but I'm not gonna understand that people buy emotionally. And they have to be in a safe place. They have to have time for things to marinate.
Personality Styles
Part of the brilliance of what you all teach is personality styles. If you present your treatment plan to everybody like they're a mechanical engineer, you're going to miss 75% of your patients. And then you're going to say they didn't value care? No! You didn't present it in a way that's palatable to them. You have to present it in a way that they can digest it, so that they are then able to make a comfortable decision.
When you do that, they're going to be happy with your work and refer their friends and pay with appreciation and give you a five star review. And that is the joy of dentistry well done. We get to make a profound difference in people's lives.
If you present your treatment plan to everybody like they're a mechanical engineer, you're going to miss 75% of your patients.
Communication: A Skill That Takes Time To Learn
Carrie Webber:
And, you know, I want to go back to what you had said that dental school students aren't trained to communicate; they're not trained to listen. But you know what—no one is! None of us as human beings are born excellent communicators. Some people may have a more natural tendency towards it. But we all have to learn how to effectively communicate, how to listen and, and how to problem solve. We need to be able to work together to find solutions. The practices that make that a priority see the greatest results in terms of achieving their practice vision and achieving patient loyalty over time.
Dr. Mark Hyman:
That is so true. You know, when I was a second year dental student, we had a freshman from Wilmington, North Carolina, who showed up with his tongue sticking out. Number 23. Michael Jordan. And Michael Jordan needed a coach. Everybody needs coaching. And Michael needed coaching to constantly practice and refine his game.
And he had to change over time, as the game changed. Early in Michael's career, the Detroit Pistons beat the Bulls consistently, and part of their game plan was to beat the tar outta Michael and physically crush him. So he spent the next summer lifting weights and getting in better shape so that he could handle more physicality in basketball.
Platinum Rule of Communication
So think about this: what's the Golden Rule, Carrie?
Carrie Webber:
Do unto others as you would have them do unto you.
Dr. Mark Hyman:
And I wanna lovingly say, who cares how you want to be done unto you? The Platinum Rule, I think should rule, which is: Do unto others as they want to be done unto.
We can say, "Here's what I would do." But you know what they're thinking? "Who cares? How about me? How about my goals for my health, teeth, and smile? How about my values, my time, my temperament?"
The Platinum Rule should rule: Do unto others as they want to be done unto.
So I would prefer that we in dentistry take that perspective and say, "Let me take the time to really listen so you can make it crystal clear what you want, how you want it delivered, when you want it, what's comfortable financially." In the end, I may need to say, "You know, what you need is not what I do." It's okay to look at a patient and say, Okay, let me help you find someone who'll do it in that fashion. That's not how we do it here."
Example of Good Communication
One of the things I hated worse than anything with doing a crown on tooth number 30 that had one of those mo, dfl, twa, klms—you know what I'm talking about? Little bit of enamel sticking out, going yoohoo! And on 29 and 31 there were big mo dfls, and the patients wanna do just one crown. I'm like, great, I do an ideal crown next to two old failing alloys. Why can't I restore the quadrant, and do it once, and do it right—the same porcelain, the same cement, the same occlusion—one shot, boom, done.
I can say, "Well, that's how I prefer it," but the patient will say, "I don't care."
But the Platinum Rule would say, "Carrie, I know you own a booming consulting management leadership company, you've got a handsome husband, gorgeous children, and you're traveling all over the world teaching and coaching. Do you want to come in and get this worked on six times, four times, two, or one? What would work for you as a busy professional right now?"
Carrie Webber:
One, please!
Dr. Mark Hyman:
Cashflow-wise, how many cups of Starbucks would be comfortable for your family over a two year period?
Carrie Webber:
Two or three.
Dr. Mark Hyman:
So obviously, if I am going to come from a perspective of "Here's what I want to do cuz it's better for me," you kind of think, yeah, who cares? But if I can get into your world and say, "Would it benefit you to come once instead of six visits, get shots once instead of six times, not get on an airplane with a temporary crown on that could come off when you eat that delicious airline food?
You know, for me to have figured that out is a joy. It's like there's 10 questions on a test, and all the answers are already circled. That's what ideal treatment planning is. I keep asking questions of the patients, and they say to me, "Here's how I want this served. Here's how I want to be treated. And there's no question about it.
It's like there's 10 questions on a test, and all the answers are already circled. That's what ideal treatment planning is.
What a joy to take the time to give patients the respect to say, "You guide me, and I'm gonna do the very finest dentistry I can do for you that will reach your goals for your health, teeth, and smile
A Key Characteristic of Success
Carrie Webber:
You know, there's a book called Presence by Amy Cuddy. And one of the things she says is that in the studies about the characteristics of all those cute kids, of influencers, of successful business owners, and entrepreneurs—one of the key characteristics was passionate enthusiasm for whatever conversation they were in. They were present in that conversation with passionate enthusiasm. And I love that because it's a mindset shift that doctors and team members must experience in terms of their confidence and what they are centering themselves on.
Those beautiful questions you were asking, and the way you want to take the time and make the effort to figure things out with the patient and learn from their perspective, that's a passionate enthusiasm and a genuine curiosity and interest in them. And it's centered in your confidence in who you are and what you do and why you do it. And I believe wholeheartedly that if we do what we do well, and then if this person wants to have a conversation with me about what we do, it has to start with what they want.
We need to discover: What are your goals? What are your expectations? If you could change things, what would that look like for you? Where are you right now, and what would your expectations of working with us be to help you get closer to that? So when doctors can shift their mindset in conversations with patients to be genuinely curious and passionately enthusiastic, I lean in because you're asking me about me.
When doctors can shift their mindset in conversations with patients to be genuinely curious and passionately enthusiastic, I lean in because you're asking me about me.
Dr. Mark Hyman:
They lean in and they feel safe, and they give you an honest answer, which sometimes is gonna be, not yet. I'm not ready for this. It's overwhelming. And the answer to that has to be, "That's fine. Take good care of your teeth, brush and floss. Let's come back and talk about it in a month. Wherever you are in your life is okay."
So it's kind of back to your original question. You asked why I got into education in the first place, why I wanted to do seminars. I resented intimidation and humiliation. It is so fun to get in front of an audience and inspire them and liberate 'em. I've had people say to me, "Dr. Mark, you are a motivational speaker, right?" I'm like, "No, I'm a liberation speaker, and I help you let go of limiting beliefs."
No, I'm a liberation speaker, and I help you let go of limiting beliefs.
Modern Dentists Embracing Continuous Learning
Carrie Webber:
I love that. And I'm curious, as we start to wrap things a little bit, what do you see from the students in terms of the future of dentistry and the emphasis on education? Do you see a desire and a hunger to be continuous learners from the students that are coming up the ranks?
Staggering Interest Among Students
Dr. Mark Hyman:
Right. I have the privilege of teaching at UNC Adams School of Dentistry. I'm on the admissions committee, so I got to screen a thousand students this year. We have over 1,700 initial applicants for 82 spots. It's staggering to me. These young men and women are so smart and motivated, and they want to be part of something special. As you said, they want to stand for something. Do they want to be able to manage their debt? Yes, sure they do. And that's fair too. You deliver excellence in a great relationship, you should be richly rewarded for that.
But these students are dying for mentorship. They're dying for leadership. They're dying for role models telling them it's gonna be okay.
You know, I'm not anti DSO; I'm anti-anything that doesn't put the patient's best interest center stage. So, for the senior members out there, I hope everybody will take on a young dentist as a mentee. I hope you'll participate in organized dentistry. I hope you'll give back to your school, either your time or your money, and show these magnificent young men and women that dentistry can still be an extraordinary profession.
Changes in the Modern Era of Dentistry
I just did a talk for Dr. Gordon Christensen in Las Vegas last week, which was titled Your Future So Bright, You Gotta Wear Shades. And that's the way I feel about dentistry. This is not a good time to be in dentistry; it is a great time. The Golden Age is over. This is the Platinum Diamond-Crusted age. Why would you wanna do dentistry without your DigiDoc intraoral camera, without your isolite, without your buffering, without your CBCT, without the coaching that we have, without Dale Carnegie?
From what I learned in 1980 at Chapel Hill to what I'm doing in 2022 is a staggering difference. And why would I go back to the old ways? There was nothing golden about that. It's the best we had at the time. And imagine 20 years from now when there'll be even more magnificence. So this is a colossal time to be in dentistry. And it's a wonderful time for people to put small dollars into coaching, training, leadership management systems that'll impact every hour that you practice the rest of your career.
Carrie Webber:
The profession is moving at the speed of light. With the evolution of technology and tools and how we serve patients, the opportunities are endless in terms of how you want to show up in this profession. So for anyone interested, my takeaway from this is: Education will always play a key role in your continuous development as doctors, practice leaders, and practice owners. Clarifying your vision of what you want your professional career to look like is going to be integral to making decisions about how to evolve, how to continuously develop, how to create that culture for your team to develop, which will in turn attract the right types of patients that are ready to partner with you for their care, for their lifetimes.
And education plays that piece for the students, for the young professionals coming up, and for those of us that have extra decades on our belt. You know, we are all standing on the shoulders of giants that have come before us that mentored and helped us thrive in our careers. And so, for all of you dental professionals, be that for somebody else.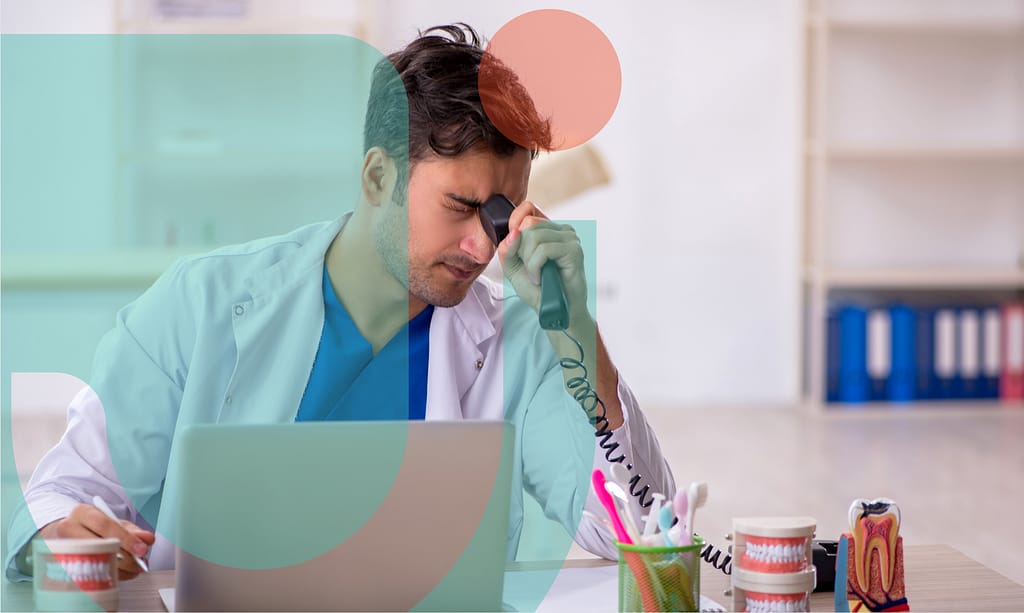 How Workplace Stress Affects Your Dental Practice Growth With the right team members, it's possible…
Why Patient Texting Is Becoming the Name of the Game in Patient-Doctor Communication In today's…
LATEST BLOGS