Below, we've compiled some of the key points discussed in the Jameson Files Episode 133. To enjoy the full conversation with our very own Carrie Webber, you can watch on YouTube or listen to the podcast on iTunes, Google Play, or Spotify.
Carrie Webber discusses the value of a practice reset.
Hello and welcome back to the Jameson Files. I'm Carrie Webber and I'm your host. And today I'm also flying solo because I want to speak to something that I'm hearing again and again from clients and doctors that are reaching out to Jameson seeking resources or support in growing their practices. They feel like they're pushing against a brick wall, and they're frustrated and burning out and wanting to find a better way
Do you recognize these signs that point toward a practice reset?
We have come through some difficult times, and the recovery and return to business-as-usual has been a roller coaster. Many of you have lots of patients returning now and are busy, but it's a season of struggles. You find yourself working harder and making less, you're unable to see new patients, but you're also writing off half of what you're producing. These are the kinds of stories I keep hearing.
1. You're hitting walls with your team.
It feels like you're in a hamster wheel, working hard every single day with nothing to show for it. You can't get them to change for the better, or you can't get consistent performance. Perhaps you're being held hostage by team members' past experiences or their own limiting beliefs. Or maybe you're being held back by your own limiting beliefs, the busy-ness, or the way you're practicing. All of these things and more can wear a person down and add stress.
2. You can't find team members.
We're hearing this one all a lot. I actually read an article recently saying we may be entering a season called the great resignation, where across all industries and professions they are finding more and more employees resigning and moving on to other endeavors. We are certainly feeling that in dentistry. Many of you have said that you've had team turnover through this season and the struggle to find new team members has been quite overwhelming.
3. You're being held hostage by PPIs.
Perhaps you're in a number of PPI plans and those plans keep changing the rules of their game. And now you find yourself stuck in a model of your practice that you never expected or anticipated. Or perhaps you purchased a practice and you inherited the plans, and you're struggling with how to move from this model to the model that is more ideal for you.
4. You are on the cusp of burnout.
You're suffering from physical pain or exhaustion from the work you're doing, and it's starting to wreak havoc on your personal life as well as your professional life. It's been a really tough one to two years.
Adam Grant, the thought leader and author, wrote an article saying that as a society we are in a season languishing—we're not quite burned out yet, but we certainly don't have the energy to pursue things in the way we once did. So maybe you are languishing, working all hours to get everything done for your business. Maybe you haven't delegated, and all of those pieces of the puzzle fall to you after you've been working in the chair for eight hours. You're starting to feel the weight of all of those responsibilities.
Critical keys in introducing a practice reset.
It may be time to take a step back and look at your practice from a different perspective as a business owner and determine whether or not you need a practice reset. There are things we can do to refocus, reset, and get closer to the path you always wanted to be on. Or perhaps it's the path you were on at some point, but something knocked you off course.
1. One of Jameson's core values is balance.
As business owners and practice leaders, we have to start looking at how to grow and still keep a handle on balance. Where are we out of balance in our practice? Where are we spending all of our effort, and it's throwing us off balance? What needs to be different? What's happening right now that your practice is not working for you? How do you reset? What does the practice need?
2. Every practice has basic needs.
Take a moment and think about what needs are pinch points in your practice right now.
Stay open
Stay healthy
Keep the doors open
Keep the team paid
3. Think about your practice vision.
Next, go ahead and ask yourself: "What do I want, what do we want, for this practice?" "Where's the gap between where I am now and where I want to be?" It's okay to do this. When you're creating a vision for your business, it's important that we are working toward a vision, because those are the things that are going to bring you professional fulfillment.
4. Clarify what matters most.
The next question is what matters most? What matters most in terms of the values for your business? What matters most to you in how you take care of your patients? What matters most to you in your professional life? What matters most to you in your personal life? What matters most to you for your team? It's important to get clear on these things.
5. Where are the opportunities?
Let's look at things from a different angle for a moment. I want you to start thinking about where the opportunities are. We need to be seeking out the opportunities for growth. There's a Japanese word called Kaizen, and it means continuous improvement. And we want to be continuously learning and improving, in almost a cyclical fashion, checking in on how we are doing in all of these systems and skill sets.
The practices that really stay focused on who they are, the kind of dentistry they want to provide, and continuous refinement are the ones that have very loyal patients. They attract the type of patients they want in their practice, very intentionally. They are doing the work to get the result they seek. They're attracting team members that want that same type of life in their professional careers.
So we need to make sure we're really clear on what right looks like for us. And that we're communicating that to our team members, to our community, and to our patients consistently.
Find your solutions for a practice reset.
If you're looking for a reset, here's some things that you may need to consider as solutions. You may need a new success model. You may need a new team member. You may need to have some conversations about adjusting course. You may need some coaching. You may need to grow in delegation and restructuring of responsibilities. You may need some simplification. A lot of times we're getting in our own way because we don't have systems or we're not honoring the systems.
For all of these reset needs, we have avenues of support for you and your team. I'd like to encourage you to check out Grow, the online learning platform by Jameson. And I invite you to visit that (grow.jmsn.com) and see if you find a good refresher to get back on track.
You may also need to find experts in your areas of weakness, whether that be coaches, financial partners, HR firms, whatever is lacking or lagging in your practice. There are companies like Jameson that can help you get clear on where you're doing things well and where there are opportunities for growth. You may need a financial planner or an accountant that is familiar with dentistry that can help you make healthy financial decisions. You may not have an up-to-date personnel policy manual, and you know you need a great HR firm to help you get compliant. There are a lot of things coming down the line that you may need help with from OSHA and HIPAA.
Find the resources that you need. Get training on your technology. For instance, if you're not using your cameras, have someone come in and do some training with you. If you're not maximizing your patient communication software, do some training online and get better at it.
Dr. Mark Hyman, who's a dear dear friend of ours, always says, "The minute I stopped telling patients what they wanted or needed and started asking them what they wanted, everything changed, because I started listening and engaging and partnering with those patients."
Jameson's Model of Success
See fewer patients per day; do more dentistry per patient, when and where appropriate.
See your patients for fewer appointments.
Minimize the number of team members in the practice.
Restructure and realign your team to maximize the team members you have.
Share the resulting profit with your team and reduce your stress.
When you set the model of success into play, you're not only helping you and your practice, many of your patients appreciate it too; because if I'm a patient in your practice, I would rather come see you for fewer appointments and get the work done. That way I don't have to take off work or find that childcare for my kids or whatever the case may be.
Work with your administrative team and your office managers to build trust, build engagement, build time in your days. Develop and grow and train as a team so that you can delegate more and feel competent in those delegations. Then you too can leave at a decent hour at the end of the workday!
Prioritize time within your day to meet and develop as teams both clinically and operationally, and then start delegating when and where appropriate. Build up leadership within your team so that they can do more, and you can do what only you can do.
Make the decision. Do the work. Face the elephant in the room head on because often that is the thing that's holding you back from the practice reset you need.
Start with that first step, first decision, first phone call, first change of conversation. And start today. And here's to the practice reset that gets you back on the ideal path for you so that you can pursue your vision for your practice.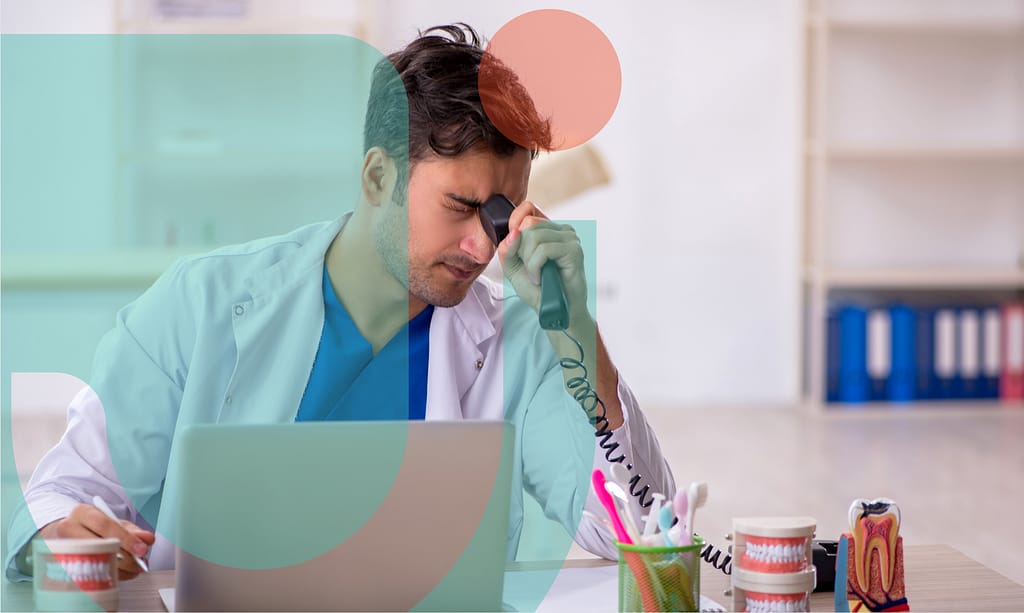 How Workplace Stress Affects Your Dental Practice Growth With the right team members, it's possible…
Why Patient Texting Is Becoming the Name of the Game in Patient-Doctor Communication In today's…
LATEST BLOGS