Carrie Webber:
Welcome to the Jameson Files. I'm your host, Carrie Weber. And it's such a pleasure to be with you once again. If you're joining us live, thank you so much for taking the time out of your day to join us for some thought-provoking conversation. If you're listening to this through our podcast channels, thank you for being a part of the Jameson Files community. You can find us anywhere that you listen to podcasts on iTunes, Google Play, or Spotify. I invite you to find us there and invite your peers to follow us as well. We'd love to grow the Jameson files community with professionals, just like you. So thank you in advance for spreading the word and sharing these great episodes that we are putting out in 2021. I am so thrilled today to speak with a special guest and a dear friend of mine, of my family, and of the entire Jameson team. Dr. Mark Hyman, Dr. Hyman. Thank you so much for being with us today,
Dr. Mark Hyman:
Carrie, what a joy to be here. Thanks for having me. And it's really nice, as I picked up my copy of the industry today, to see that I'm in the presence of dental royalty. It was really cool to see you in there again. So what a treat?
Carrie Webber:
Well, we were teasing each other earlier, and I said, you've been in there so many times that they should just have you on the cover, because it's really the honors online.
Dr. Mark Hyman:
That's a good way to drive down circulation, but thank you. What a treat. Okay. Now it's your turn.
Carrie Webber:
Well,, for today, I want to anyone that perhaps doesn't know Dr. Hyman; I invite you to go find one of his lectures in an upcoming event and become familiar with this wise and generous soul. Dr. Hyman practice dentistry in Greensboro, North Carolina, and is presently an adjunct professor at the UNC Adams school of dentistry. Besides that, he has been a thought leader in dentistry over the years, providing incredible content to publications for webinars and lecturing all across the country to dentists and teams really changing their lives for the better as a mentor for the greater good of dentistry. So it really is an honor to have you with us. You've been a dear friend of Jameson's over the years. We had the privilege of working with you and your team when you were practicing in Greensboro for many years. And through that, not hopefully we made a difference for you, but also we learned from each other and had such great admiration and respect for the dentistry you provided the practice you built for yourself and the way you lead your team over the years, it was very amazing to be a part of that and watch your journey.
Dr. Mark Hyman:
Thanks, Carrie, I got really, really lucky. You know, I won the parent lottery with my mom and my dad. I won the sibling lottery with my older brother, younger sister. I way out-punted my coverage with my wife and with my team. I had such love and loyalty and talent for these women that I worked for all these years. My main receptionist, Ms. Mary Catherine Ward, who was with me 25 years; my lead CDA superstar, Athena Escovedo Calloway, was with me 19 years; three of the hygienists—15 plus years. So that was extraordinary, Carrie. People said to me, "Dr. Mark, you just got lucky. You must've paid him a lot of money. You just got lucky getting these women." Well, the fact is that every single teammate I had, had first worked for another office, left them, and then came and joined me—and then stayed.
So I pay homage to these amazing women and Jameson Management for helping me for many parts of my career. I was a sensational boss and leader, and there were other times I face-planted flat out. So I really hired really well. We did a ton of training, Carrie, and then I got out of their way because the last thing I needed to do was hire a group of superstars and micromanage them. For me, philosophically, I tried to specialize in doctor-only, CEO, chief executive officer stuff. It didn't make sense for me to do things at a talented group of teammates could do for me, for the patients, and probably do it better than I could. So I tried really hard to train the team, inspire them, liberate them and get out of their way. And it worked beautifully.
Carrie Webber:
You know, that's such a perfect setup for the questions that I have for you today. What I want to talk about today is how to keep your team fired up, how to motivate your team to continue on doing the good, hard work. I've thought about the past 12 months in the season of COVID. And, you know, you've been on the circuit nonstop speaking to dentists and teams in this past year, supporting them through a most extraordinary and challenging year. And what I think about often is one of the biggest challenges doctors are facing now is how to keep their teams motivated after such an emotionally and physically exhausting year. And thinking about you and how you had this group of superstars and delegated a great deal of leadership and responsibility. So what are some things you can tell to our listeners who may be trying to find inspiration on how to motivate their team or keep their team motivated?
How did you create that culture in your practice? What were some intentional things that you did to instill that level of engagement and initiative, and to continuously and consistently deliver the best for your patients? Because you were not doing simple dentistry. You were really taking big leaps in comprehensive care. So there was a lot involved and a lot expected of your team. How did you instill that?
Dr. Mark Hyman:
Oh boy, Carrie. a great question. One of the biggest things I think I did was to inspire the team. We didn't have an office manager. Each person was the manager of their own department, their own level of responsibilities. So they were self-policing. the idea of motivation. Again, I would rather call myself a liberating boss. The training that we had from Jameson Management, we had every four months; we had two days of in-office coaching at a monthly leadership call with Dr. Kathy Jameson (my coach, hero, mentor, and a good friend of yours). And I had a weekly marketing call as well.
And so outside of dentistry, and outside of the Jameson coaching, every teammate also took Dale Carnegie training, where we studied how to win friends and influence people. And I've had people say to me, "Dr. Mark, that's expensive. Why? I mean, a couple grand per teammate. What happens if you train them in on Dale Carnegie, and they leave?" And I said, "Well, what happens if you don't send them to Dale Carnegie? And they stay?"
So I've tried to live out of abundance. Instead of scarcity. We did lunch-and-learns every month where I would bring in a supply rep, a manufacturing rep. I probably took the team out to lunch once a week. So I was constantly feeding them. New teammates would kid that they would get the freshmen 15 when a new teammate would come on board because they figured they had to go to lunch and eat everything. And they did.
We read a lot of books together as an organization. We read Dale Carnegie's How to Win Friends and Influence People, Stephen Covey's Seven Habits of Highly Effective People, Zapp! The Lightning of Empowerment by Byham and Cox, Who Moved My Cheese, Raving Fans, Millionaire Next Door, Good to Great by Collins, Creating a Healthy Work Environment by Dr. Kathy Jameson, Collect what you Produce by Dr. Kathy Jameson. So every couple months we would read a book as an office and have a team meeting and talk about it.
So again, people have said to me, "Do they buy their own books?" No, I buy the book, give it to them, and say, "This isn't just for your work life. This is for your personal life and your enrichment and fulfillment as well." Philosophically, Carrie, I would pay for any course that any teammate wanted to take inside or outside of dentistry. If there was a special something at their church, synagogue, or mosque, I would pay for that. All of my clinical teammates were trained. Everyone knew how to use the DigiDoc intraoral camera. All the dental assistants knew how to use the CAD/CAM, the CEREC machine, and all the scanning and milling and staining and glazing.
We did a lot of cross training. Every business team member was x-ray certified, so they could take a panorex, a CBCT, an emergency PA. Every clinical teammate could go up front and welcome a new patient, apply for Care Credit, answer the phone in a professional way.
We did a yearly dream trip where we said to the team, "We're going to come in two Fridays, everyone's going to give their time, and all the money we make, we're going to spend on a dream trip." So I took the team to Myrtle Beach, South Carolina; to Orlando, Florida; to the Hinman in Atlanta; to Destin, Florida; to Las Vegas; several times to San Francisco. And when they would land at the airport, I'd pick them up in the limousine and drive them to where we were staying. We had many bottles of champagne—at the anniversary of somebody being hired and every July 1st (that was the start date for when I bought my practice in 1986). I would give a rose to each teammate for every year they'd been with me. So last year, Mary Catherine got twenty-five roses. She became expensive, you know. In another piece of that, two of my teammates ended up as national speakers.
Tina Callaway was a national CDA superstar speaker and Alaina Ivy was a hygiene superstar speaker. So I sent them through an extra level of Dale Carnegie speaker training—the HIP (High Impact Presentations) two-day speaker training. You know, I tried to treat them like I wanted. Everybody talks about the golden rule, Carrie, which is to treat everyone as you would want to be treated. And actually this is the age of the platinum rule—treat others as they want to be treated; not as you want to be treated. Ask them, "What can I do to knock your socks off? Where are you in your life?" When my teammates had younger children at their child's birthday, every year I got them a Barnes and Noble gift certificate to take their "critter" to Barnes and Noble. That was back when people would go to bookstores and buy books. Remember those days?
So what's the message with that Carrie? I'm trying to invest in your child's education. And that was fun. We celebrated birthdays whenever it was their birthday. I took everybody to lunch when it was Halloween; we dressed up for Halloween and went to Lucky 32, our favorite restaurant in Greensboro. Down in Dixie, the ACC basketball tournament every March is huge. Everybody would wear their favorite ACC colors. We had UNC Tar Heels. We had Wake Forest Demon Deacons. We had Virginia Tech Hokies. we had NC State Wolf Pack. No Dookies. So that was, that was fun. I tried to make it fun; I tried to surprise them. We had monthly bonuses. Jameson worked out our bonus plan, which was really win-win for people watching. If you say bonuses don't work, I will quote a favorite, famous Southern expression, "Yo mama." Bonuses work when they work for both parties.
And other times I would surprise the team. If there was a day where they just went nuts, I'd call them for a quick team meeting at five o'clock. And I'd pull out a stack of Benjamins. I'd pull out a stack of hundred-dollar bills, and I wouldn't say, "Carrie, what did you do?" But I'd say, "Carrie, what did you see Amy doing?" Well, does that make sense? What'd you catch a teammate doing right instead of you? So I tried to bring that culture into the practice of catching each other doing the right thing instead of the wrong thing.
Carrie, were we perfect? No.
Carrie Webber:
No, but you checked a lot of boxes there, and that's just the tip of the iceberg, I am certain, of things that you used to do for your team, for your patients. But you know, when you look at studies of employee engagement—not necessarily in dentistry, but just societally—what employees are saying they want from their employer is a place where they can contribute, share ideas, give feedback. A place where their opinion matters, where they can develop and grow as a professional. And they also want to a sense that the leadership and their teammates care about their wellbeing, genuinely, on a personal level. So by you investing money in their development, investing in time to develop, and then investing in them personally with showing of gifts and appreciation and things for their children, you really check a lot of boxes. And we know through studies that when you put forth that kind of investment in engaging your team, they will mirror whatever you're doing.
It really inspires that kind of initiative and growth and sense of ownership to help the practice and the organization be successful. So my question for you: By having the Dale Carnegie training, the Jameson training, the monthly lunch-and-learns, the book reading—these things take time away from seeing patients, right, time to work together as a team on the practice and on your individual skills and team skills use all that technology, to communicate with the patients effectively, and all of those things. What I hear from doctors frequently or office managers or team leaders. When I ask about the consistency of having meetings, they report these things often fall by the wayside because they're changing out that that productive time in the meeting for productive time in the dental chair.
And I understand that, especially now, you know, trying to recover from the shutdown of COVID. I understand, but, well, I always love how you call it "sacred time" that you spend with your patients; but I think you'd also consider that sacred time that you spend with your team. Would you agree? And do you ever struggle with keeping that a priority, or was it a non-issue for you? Maybe you just set it in stone as a vision and part of your practice DNA?
Dr. Mark Hyman:
You know, it wasn't always, because I didn't get it right the first time. I didn't know what I was doing early on, and I made a lot of mistakes. And then I had the gift of speaking for a DISCOs dental meeting in May 1999 in Las Vegas. And Dr. Billy Dorfman took all the speakers to Cirque du Soleil O at the Bellagio. And my wife and I sat next to Dr. John and Dr. Kathy Jameson. And it was like, hello, my world's just changed. And we worked with Jameson some. Then in 2005, my 19-year partnership broke apart lovingly, and I moved into new debt, new office. And Kathy came in and gave us a love gift of a day of her time to help us plan our new vision for our preferred future. And we started having the monthly Jameson coaching.
And over a 24-month period, my million-dollar practice, Carrie, only went up 52%. We went up over $500,000 in 24 months, working fewer days per month! And the thing I try to tell my audience is, I never once said to Jameson Management, "Make me more money." I just said, "Stop the chaos." I was running around from room to room and producing big numbers and not having the level of relationships that were really dear to me. And lovingly Kathy smacked me around and put systems into our practice and made me accountable to the team, because that was one of our biggest issues. I'm a nice guy. And the teammates had trouble telling me when I didn't stick to what I had said we were going to do or what our mission statement said about what we stand for. And so that was really powerful and transformational and liberating.
My friend, Dr. Keith Phillips, said, "Your patient's always right. They just don't have to be your patient." And that was really important, saying you can't be all things to all people. And that was another thing that we had to say. Some people don't fit the practice. Some teammates perhaps fit for a season of their life, and now they don't. So I tried to be understanding of that. Probably the worst thing that I ever did as a leader was not honoring what we learned and not sticking to it because I was trying to be a nice guy.
Carrie Webber:
Well, a lot of times the learning happens through the experience, right? We learn the lessons by living through the lessons. And it sounds like you knew what life was like before committing that time to developing your team, working together, having that connection time—and what a difference it made. But it took a bit of experience to learn "how do I do this and have that healthy, happy career I'm looking for?" And also, as you had said, that golden rule, the platinum rule—if it's what I want for myself, I have to create that for the people that entrust me with their professional careers.
Dr. Mark Hyman:
Or you grow elsewhere. And that's painful, but that's okay. May I give you an example, Carrie? I've worked with Intraoral cameras since 1991, and it transformed my career. I've worked with many versions since 21 years ago. I started working with DigiDoc—it's an American company—and I had eight operatories. Carrie, how many cameras did I have?
Carrie Webber:
You better have had eight.
Dr. Mark Hyman:
I had eight. We used a camera on every patient, every procedure—before, during, and after ballgame. I've had people say to me, "Doctor Mark. I got a camera, and I'll use it when I need to." And I'm like, how do you know when you need it? You don't think it's a benefit putting a picture up on a 70 inch monitor in color and letting the patient really see what's going on? Documenting the before, the during, the after?
Dr. Kathy Jameson twenty-one years ago, asked me the question, "How do you create the sense of urgency?" And that is the answer. You put a picture in front of everybody you work on. That's how people learn. That's how they own their problems. That's how you get five star reviews. It's just unbelievable. So if you say to me, "Okay, Dr. Mark, I'll buy eight cameras for eight operatories, but we don't have time to train on them." Then what's the point? So we trained all of my teammates on the camera. We trained them on the verbal skills. We trained them to not judge and not fuss at people and not say, "You need a crown because I said, so."
Instead, we'd put a picture up. We always showed a picture of a healthy tooth, Carrie. And then we showed a picture of changes going on in their mouth. And my verbal skill was to put that picture of a broken tooth up there and just look the patient in the eye and say, "Wow." And you know, in a business negotiation, the first one to speak, loses.
And so, you just look at it and then at the patient, and you're going, "Wow."
The patient says, "My tooth's cracked. You need to fix it." And it's just kind of fun to practice that way. It's really fun to take yourself out of the game of saying my self-esteem depends on somebody saying yes to me, because you and the patient together are looking at the picture. You're learning and you're teaching, I love it. Someone's got 28 teeth, and you could say, "Twenty-six of your teeth looked fantastic. Look at these photos. Boom, boom, boom. However, I see dramatic changes happening in these two teeth. Would you like to know about it? Would you like to know what your choices are?" And if the patient says, "No, I don't care." Then I say, "God bless you. Go with God. Good luck. I'm here for you when you need me." So it became a lot of fun.
When the team is setting the table for you. When our business team members are sending insurance claims with a before, during, and after photos. One of the most painful things for offices is for the young doctors, particularly, to suggest treatment. And the patients say, "Let me think about it. You must need a new car. Can we just watch it awhile? Can we get a pre-denial from the insurance company?" In our office, we didn't file for any pre-authorizations pre-denials. You have an automatic second opinion with the camera. And it just became a really liberating, fun way to help people receive optimal dental care.
Carrie Webber:
And you continue to plant these seeds into the doctors and teams that learn from you. You had a really clear vision of the way I want to practice dentistry. Here we're going to use the highest caliber tools and we're going to maximize them. We're going to incorporate technology. We're going to do comprehensive care. We're going to take care of our patients in this way. This is what we're all about. This is the lane. This is the direction this bus is going. And you attracted a team that wanted to be a part of philosophical care and be on that track with you. And then it was a non-negotiable for you. So, so when you say, you know, some people may need to develop elsewhere and made those decisions, you may have made those decisions less difficult because you knew what your practice was about and the expectations of the team.
So it was a place to grow and thrive. I mean, you also really embraced a piece of what we call the model of success. As a doctor, do only what you can do and delegate the rest to the best of your ability, when and where it's appropriate and allowed, to your team. And you really did that. Did you see that as a huge motivating factor for your team? I mean, you had your assistants really locked in and helping you with the CAD/CAM dentistry. You had an incredible treatment coordinator that stepped in from a different role in the practice. You really delegated a great deal, for your practice's success, to your team. Was that motivating to them?
Dr. Mark Hyman:
Tremendously. I adored my team. I'll talk about them all day long. There was a former colleague of mine at our dental society who used to call the suction a dummy stick, cause any dummy can use it. And I'm like, "Well, how humiliating is that?" I've had people say, "Well, I'll pay a bonus to my hygienists because they're the producers, but the dental assistants aren't." And I'm like, "Yo Mama, they aren't." My assistants produced a fortune. It was insulting. So, we also trained our hygienists when we did Invisalign and Six Months Smile orthodontics. They could talk about it and impress somebody, and they could do the zoom tooth whitening or the tray. Day White, Night White, take-home. We had eight operatories, Carrie. We had eight Isolites. Who'd we use the Isolite on? Everybody. Every patient, every procedure, got an Isolite. Those mouth pieces cost two bucks. It's crazy not to use it.
When I started working with Jameson Management, I had a young associate leave the great state of North Carolina. You can only have two hygienists per doctor, and I had three hygienists on my team. And so Dr. Kathy Jameson said, "Take your number one producing hygienist and make her treatment coordinator." And I'm like, I know you have two PhDs, but that's the stupidest thing I ever heard. And she kept ragging on me, and I didn't listen, and I didn't listen. And finally I said, okay, I give up, go ahead.
For six weeks, she added $80,000 of treatment because she had time to sit down and talk to patients about care. And I was like, I hate it when she's right, like that.
We trained all my dental assistants in CAD/CAM dentistry. My total time per crown build-up in my office was like $1,500 bucks when I left private practice. And my total doctor time on that procedure was about 30 minutes. So we would come in, we would place the super topical—a mixture of lidocaine, prilocaine, and tetracaine. The patient is almost completely numb, just with that. I would use my buffered local anesthetic with the Onset Buffering System (their company is OnPharma). So your lidocaine, articaine is now the same PH as water instead of lemon juice. It doesn't burn, and the patient's numb in 90 seconds and you can seat, treat, complete your patient. It's a killer way to work. So I would numb the patient. They're numb. I would do my prep. I'd get up and walk out.
The team would pack the cord, scan, mill, try in the restoration, pre-cementation, radiograph, etch, and bond it, and call me back in. That 19-year dental assistant, she knew what I wanted. She knew what I expected. We probably had our, our CEREC trainer in like nine times to spend a full day with the team, coaching them and training them up on software upgrades and advancements in CAD/CAM technology. So, instead of the assistants sitting there sucking spit, no. They would stain and glaze the CAD/CAM dentistry. They got to work with the Isolite. So their hands were free to run the case instead of fight the tongue.
Carrie Webber:
Yeah. I love your theory about, you know, I will develop and bring an opportunity for growth that is unparalleled at the risk that they may leave. Yes, they may leave, but I would rather bring out the best in them while they're here as a part of this team. That was definitely a part of your philosophy and your practice culture and understanding. I love what you said at the beginning about wanting to inspire a role and give them freedom to have that initiative and lead from within, because you had this great understanding that you were limited by your own capacity. And if we could share that those responsibilities with the rest of the team, wow. I mean, the sky's really the limit when you instill that sense of culture, of a high-performing team within your practice.
And not only that. It's something that you say you want, but it's more than just talk. You really lived by that. You did it. You invested the time; you invested the tools; you invested in the training; you hired a team that wanted to be a part of that type of experience in a professional career. And now you're also having the chance to plant those seeds in the dental school students and the people that attend your lectures. And I just think it's so admirable, and so true to an example of what can be when you really take a team approach to fulfilling your ideal practice vision. And so it's just an excellent example.
Dr. Mark Hyman:
Well, you figured it out probably pretty early on. I'm not that smart, and I wasn't that good. So it made sense to hire really talented people and train them and get out of their way. You know, I've had people say to me with CAD/CAM dentistry, I had a dentist look at me and look me in the eye and say, "If the assistant wants to use that, they should go to dental school." I've had people say to me, "Well, I will not use the intraoral camera. Cause I don't like what I see." Wow. That one hurts. I've had people say to me, "Oh, I won't use buffering of the anesthetic because patients are used to the shot, and they can just wait." I've had people say, "Why would I use an Isolite when cotton rolls work just fine."
And I'm like, I'm sorry, that's just 50 shades of stupid. They're really bright men and women that have figured these things out. If you can just focus on your number one CEO doctor-only stuff, you can have colossal success in quality dentistry, joy in your career, and team satisfaction. I left private practice, Carrie. We had over 1,200 five-star reviews. It was a joy, and it wasn't an accident. People saw me coaching with Jameson and said, "That's expensive, isn't it?" And the UNC Adams school of dentistry students know how to answer that. Anytime someone says something's expensive, my entire class says, "Compared to what? Compared to not working with coaching?" So man, it was expensive to work with Jameson in 2000 and then again in 2005, right? Except the practice only went up $500,000 in 24 months. Carrie, what I don't talk about is what happened the next year. It went up every single year I worked, and I never once said, "This is about the money."
It was about the team turnover, the patient satisfaction, the quality of the dentistry, the quality of my life, the amount of stress I was carrying. And this is just a fun way to work. I had one of my students when I was showing them about the camera. They said, "Dr. Mark, you're the only one that talks about this." And it was heartbreaking. I love my school. I'm a quadruple Tar Hill, Carrie. So undergrad dental school. Did a two-year or a medicine hospital. Dental residency. And now I teach at the UNC Adams school of dentistry. Right now, UNC and Michigan are the top two rated dental schools in the world. And why am I the only one talking about this when I just did a gig for the Michigan dental students a couple of weeks ago for their advanced standing international program? And I was like, you're Michigan. You guys are awesome. You're using cameras for all your patients, right? And they're like, "No, with COVID, they don't let us use them." And I'm just shaking my head.
And I'm not putting anybody down. I just understand the challenge of getting out of limiting beliefs, getting out of your own way and trusting professionals. And that, for me, the point of this podcast, it's to discuss a very special brand in dentistry and a choice for people to make. And I'm not here hawking any product, any company, anything. I paid for everything. I paid for my coaching with Jameson. I paid for cameras. I paid for my CAD/CAM machine. I believed in it, and it transformed my career. And if I could do anything for people, well, the one thing I can ask is that they liberate themselves from a limiting belief and just take a chance to try something, because the impact is huge and life is too short. We've seen that with COVID. it's just been terrible times for teammates.
Many of our doctors, they did the best that they could. And by dismissing their teams during the peak of COVID—there's a level of humiliation and lack of job satisfaction or lack of appreciation. I understand that. I'm not putting anybody on the spot with that, but I talked to several of my former teammates who, to a person, said they talked to their significant other and said, "I know Dr. H would have taken care of us. He would have been there for us." And that's for doctors on this call—if you stubbed your toe a bit in working your way through COVID, it's time to make amends, give some hugs, give some gift certificates, get out some Benjamins, bring in some coaching, and just say, we can reignite this practice.
One of my young proteges, I spoke to him last night and said, "I forgot to ask you at year-end—how did 2020 go for you?" He looked at me and kind of grinned and said, "It's the biggest year I ever had." That's with not working for six, eight weeks, however long it was that they shut down. He had the benefit of a year of Jameson coaching and the systems that he put into place. It works. It absolutely works. And, you know, we may have the privilege of many, many moons on this planet, or we may not. So since life is too short, why wouldn't you do this? Why wouldn't you spend every day in the practice with people you adore, working on patients that choose you and you choose them? And with predictable systems doing gorgeous dentistry, it's there for the taking. Promise.
Carrie Webber:
I think that's a perfect way to wrap it up in terms of, for anyone that's listening that if you're sitting here wondering—how do I get that? What do I want? Something different from what I'm experiencing now. The first step is to get that sense of clarity about what is right for you and what would be ideal in your practice and then decide to get on that course and find people that want to be a part of that vision. Then invest in them and invest in the steps necessary to make that vision a reality for you. Whatever that looks like for you. Dr. Hyman had a very clear vision of what right was like for him. And he committed to it and he invested in it and he invested in the people that helped to make it a reality.
And to those who are listening, it's never too late to get on the right path for you, whatever your vision or ideal is. So ask yourself the questions. What does right look like? How can I be about the business of getting closer to that ideal? What are the decisions I need to make? What are the investments I need to make? When will I make these decisions and make the choices? Choose, as Dr. Hyman said. It's a choice, and we can choose to be on the forward path to progress. So Dr. Hyman, thank you so much, my friend, for joining me. If anyone wants, you can visit Dr. Hyman at drmarkspeaks.com.
Dr. Mark Hyman:
You can email me from there. If somebody wants to have a one-on-one conversation with me, I'm pleased to do it. I'm not on the fence about this. Dale Carnegie's organization says three magic words: success leaves clues. So if you look at the most highly successful men and women in dentistry, what do they do? They get extraordinary coaching. They hire well. They have a very clear vision. They follow through with it. And they're very humble in what they do. And I'm honored that you invited me, Carrie. I'd love to do it again. All the Jameson family is very dear to me, and if I can help anyone grow, I'd be pleased. So good luck everybody.
Carrie Webber:
Thank you so much, Dr. Hyman. Follow Dr. Hyman at drmarkspeaks.com. He'll be on the road soon, speaking and lecturing. Go find him online or at the great Hinman dental meeting coming up this spring. He's going to be at places, and he's worthy of your time. He's a great mentor for many. So thank you for your time, Dr. Mark. Thank you all for listening and being with us today. We'll see you next time.
Thank you for joining us on this episode of the Jameson podcast. Visit us online at jmsn.com. You can subscribe to this podcast on iTunes, Google Play, Spotify. Do you have questions or topics you'd like for us to answer or cover on the next podcast? Email us at [email protected].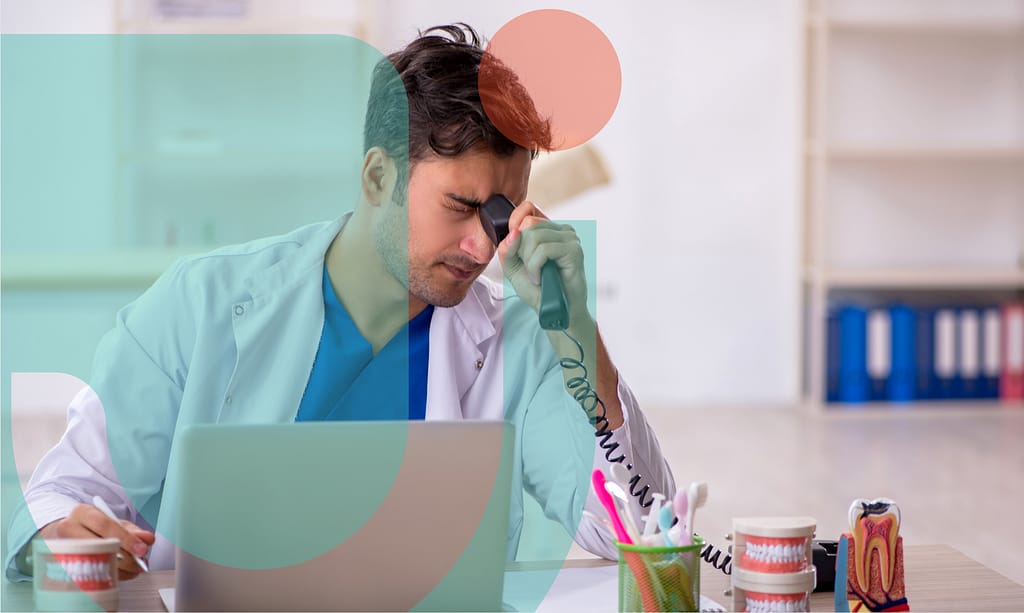 How Workplace Stress Affects Your Dental Practice Growth With the right team members, it's possible…
Why Patient Texting Is Becoming the Name of the Game in Patient-Doctor Communication In today's…
LATEST BLOGS