Patient financing is an invaluable tool.
As a profession, the storm we have withstood during the Coronavirus pandemic is extraordinary. As we work through all that is required of us as dental practices to reopen and see patients, one area that may be overlooked at the beginning is how our patients have weathered this storm themselves. I can't help but reflect on the beginnings of Jameson.
The story of Jameson starts in my father's practice, one of Jameson's founders, Dr. John Jameson. In his early years of practice in Oklahoma, he and every other Oklahoman found themselves in economic stress and strain. Practicing in a rural Oklahoma town with patients accustomed to drill, fill, and bill—emergency-based dentistry—it wasn't long before he found himself financially strained, physically exhausted, completely stressed, and professionally burned out. He knew something needed to change, and so, with the help of my mother, Cathy Jameson, they worked to clarify and pursue his ideal vision for his practice.
For the rest of his career, he became a trailblazer in the utilization of dental technology and provided comprehensive restorative and aesthetic dentistry for his patients up until the day he retired. To this day, if you ask him how that was possible in small-town, middle America, his answer would not be complete without recognizing patient financing as an invaluable tool for his patients to get the dentistry they needed, and wanted.
Help your patients achieve their dental health goals.
As you partner with your patients today, it's important that you work as hard as you can to listen to your patients' goals for their dental care, as well as their concerns and obstacles. If we can work with them to help find a path forward that overcomes concerns while also providing the ideal type of care for them, that is a win all the way around, wouldn't you agree? In order to do this, we have to be proactive and embrace this piece of the patient relationship as a part of the process, not as excessive busy work. The more proactive and prepared we are in our work with our patients, the more likely we can maximize the tools that are readily available for them through the practice and help increase case acceptance and treatment completion across the board.
When we work with our clients, we help them build a variety of financial options in their practices that everyone on the team is aware of and understands. That way the options are in place and readily available to the patients and we are comfortable with talking about the financial options and answering any questions that may come our way. Patient financing is one of these primary options. The pros far outweigh the cons! At Jameson, we have always believed that we do not want you in the banking business. We want to leave banking to the financial experts and allow you to concentrate on the fantastic healthcare service and dental care.
Maximize the tools you already have.
If you already have a company or two plugged into your practice, then why not take the time to work with their team to learn how to maximize their tools as much as possible? I am often surprised at how frequently business team members or doctors avoid training and touch points with representatives from some of the best companies in the profession to maximize this tool that is already in place in their practices. We know, based on the survey results regularly provided by the American Dental Association, that cost is the top reason patients forego or delay dental treatment. Since we know this is the case, it would be advantageous for us to introduce this tool early on to our patients so that they can decide for themselves the best way forward for accessing care.
Treatment Presentation Preparation
Here are some specific areas in patient communication, financing, and specifically patient financing, to consider in your treatment presentation preparation.
1) Communicate with your patients.
Are you taking the time to connect and communicate with your patients? Now more than ever, the strength of our relationships with our patients is going to be important. Prioritize the time within your appointments and phone calls with your patients to find out how they are, how they have weathered the storm, if they have questions or concerns about upcoming dental needs. These conversations help us navigate a way forward for our patients while also showing them that we care, that we listen and that their well-being matters to us. This creates the loyal, happy patient family that we all want. Our ideal patients are those that schedule appointments, keep appointments, accept treatment, complete treatment, stay active in the practice, and refer! The way to foster the relationship with patients is through intentional and effective communication skills. Are you connecting with your patients? Are you getting to the heart of the matter? Are you taking the time to do so? If not, start here. Your ability to effectively communicate and listen will make all the difference in whether your practice struggles or thrives.
2) Preparation is key.
As the treatment coordinator or financial coordinator in your practice, are you fully aware of every financial option available to your patients in your practice? Do you take the steps necessary prior to presentations to have all of that information organized and prepared for your patient so that they can make the right choice for them? Disorganization, lack of preparation and understanding, lack of confidence in presenting these options—these are all common mishaps in treatment consultations and the good news is, they can all be remedied with training, practice, time, and preparation! Take a step back and review where you are lacking in your skills, processes, or confidence in treatment consultations and be about the business of refining and growing in these areas. You will be better for it and so will your patients!
3) Allow patients to decide.
As a part of your financial responsibility conversation, it is important to leave room for the patient to decide what is best for them. In other words, beware of the dangerous habit of assuming for the sake of someone else. We cannot assume to know how a patient wishes to pay for their care. We also need to be careful of assuming whether or not the patient can afford the care. Assumption, as Cathy Jameson says, is the lowest form of communication and is dangerous ground when it comes to pursuing and honoring the pursuit of ideal care for our patients. Our responsibility is, as John Jameson says, to present the best possible treatment for their situation, to offer them a variety of options for how to take care of the investment, and then to get out of the way and give the patient the opportunity to say yes to the very best. Are you guilty of assuming for your patients? Are you guilty of picking and choosing what financial options to present to them in a treatment consultation? You may be surprised at what patients choose to utilize patient financing and what patients choose to pay in full! The key is to give them the options and to step back, listen, and let them choose.
4) Ask what's in it for my patients?
If you struggle to see the benefit of patient financing in your practice for you and your patients, ask yourself, what's in it for me and what's in it for my patients? Remember, if the patient is discouraged to proceed by the size of the overall investment, patient financing is a way that helps them make lower payments that fit into their monthly financial budget. It's also becoming more and more convenient for patients to apply. In fact, the shift is occurring where more and more patients may already be walking into your practice with patient financing in place for themselves because they are using it at their veterinarian, their optometrist, even at the pharmacy. It works in conjunction with their dental benefits, so if you are wondering how to help with that portion of the treatment that is not covered in their plan, here is a viable option for them. It also gives you a means for collection that keeps you out of the banking business—and we are big fans of that!
5) Work with patient financing organizations for the best results.
If you have had patients denied after applying or if the fees are deterring you from maximizing the tool in your practice, the time is now to work with your patient financing organizations to see what options and opportunities are available to you that you may not be aware of today. It's also important to look at your total case acceptance rate. We want to see you hitting a goal of 85% case acceptance. If you aren't there—what would utilizing patient financing do to help you get closer? If it can help you do the dentistry you love for the patients that need it so desperately, isn't it worth it?
Work as a team on your understanding of your financial options for patients. Do the work to get clear on how well you are utilizing patient financing and determine how you can use it more effectively and intentionally in the future. Remember, your patients are actively looking for ways to overcome their biggest obstacles to accessing the care they need and want. Great customer service is being able to confidently answer this question: how easy do you make it for your patient to access what they want in your practice? It's not about us, it's about them. If we are here to serve, let's do exactly as John Jameson did in his practice for 30 years: offer the best dentistry possible, give patients a variety of financial options to access that dentistry, and then get out of the way to let your patients say yes to the very best!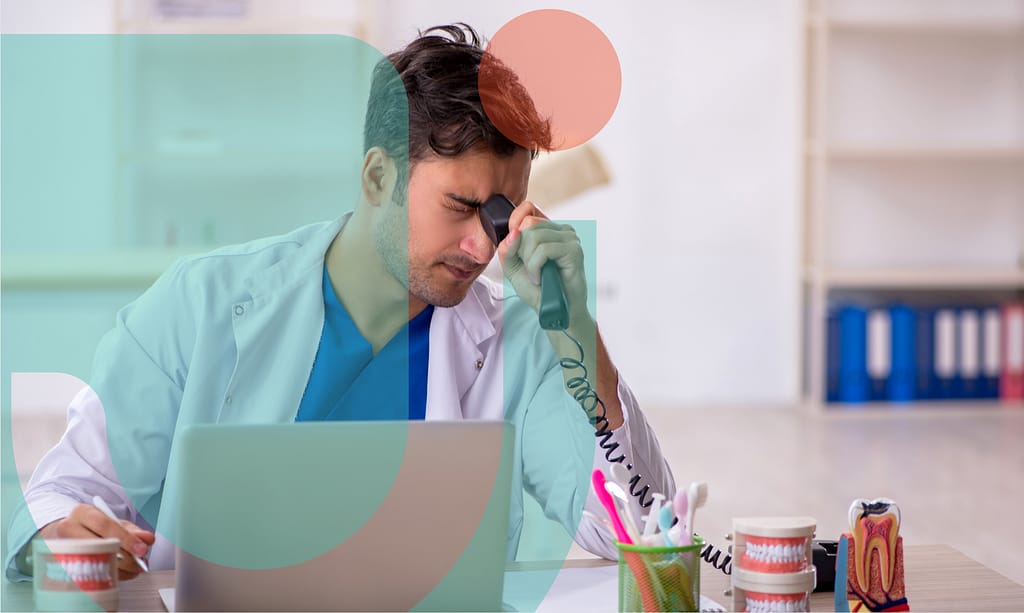 How Workplace Stress Affects Your Dental Practice Growth With the right team members, it's possible…
Why Patient Texting Is Becoming the Name of the Game in Patient-Doctor Communication In today's…
LATEST BLOGS