Choosing the Right Marketing Method for Your Dental Practice
Developing your dental practice, to be specific, marketing your practice is much more difficult than you ever imagined. You want your marketing efforts to match who you are as a dentist.
You're looking for something that says you're educated, skilled, and experienced in your area of specialty; you are trustworthy and a patient ally; you are here to help provide solutions that align with your patients' goals and values.
How do you fit all of that into your marketing plan?
The answer is content marketing.
What is content marketing, and how can it help in developing your dental practice?
You know traditional intrusive marketing—ads, billboards, mailers, telemarketers, unsolicited emails in your inbox. It's the type of marketing that we're bombarded with on a daily basis, the call to buy now intruding our lives when we turn on the TV, drive down the street, answer the phone, or open our inbox. Intrusive marketing is just that: intrusive.
Intrusive marketing relies on grabbing your attention. To be the attention-grabber in a world full of such noise, though, these ads have to be louder, brighter, shinier, and better than every other ad intruding your life.
Trying to win everyone's attention in this way is much the same as me trying to talk over my three young children. The result is a lot of shouting with very little effectiveness.
Instead, what if I was the whispering voice in the room—calm, quiet, standing outside the circle of frenetic activity? What would happen?
I've seen this approach in real-life situations time and time again, this stillness drawing the attention of those in a chaotic situation.
Have you ever visited your child's school, for example? If so, you've probably seen it, too—a teacher standing at the head of a long line of noisy children, finger on her lips, looking expectantly at the children who slowly join her in her silence.
She has their attention. Through her leadership and quietness, she's managed to still the chaos. Those children are giving her their attention willingly, even, and that's an especially important step because it means they are paying close attention since it is their choice to do so.
Those children give her their attention because they know she holds the knowledge and skills to tell them what's next. There are benefits and rewards to paying attention to her, and they don't want to miss out on either.
Content marketing is similar when it comes to developing your dental practice. It's about that approach the teacher took of being a leader with the whispering voice, creating a haven for those who have become conditioned to ignore intrusive marketing tactics.
Content marketing stands out as something different, something separate from the crowd. It's also about delivering on that trust people put on your business and providing them with something that shows you understand that their time and attention are valuable.
Marketing is the foundation of a positive relationship between business and consumer. As a professional in an industry that relies on conveying professionalism and gaining trust, content marketing is a natural fit.
Who is Jameson?
If you asked a friend who isn't a dentist or dental assistant to help you with a client's tooth extraction, how much help would you really be getting? Their lack of knowledge would mean that not only would you be doing your job, but you'd also be training them on how to assist you. It wouldn't be helpful for you or your patient, practice, or dental team. It wouldn't give you the results you want for developing your dental practice.
If you've worked with other marketing agencies, you might have had a similar experience. Not only were you doing your job, but you also had to help them do their job because they lacked an understanding of the dental industry.
At Jameson, we understand the dental industry. Founded in 1990 by Dr. John Jameson, DDS, and Dr. Cathy Jameson, PhD, we've been helping dentists like you for years.
It all started when Dr. John and Dr. Cathy transformed their struggling practice into a booming, thriving practice in the midst of an economic downturn. Other doctors who knew them took notice and asked how they did it. Dr. Cathy began helping others to do the same.
Dr. Cathy and Dr. John have grown Jameson over the decades since. Now, we're a full-service management, coaching, and marketing agency helping doctors, with Carrie and Jess Webber—Dr. John and Dr. Cathy's daughter and son-in-law—at the helm. Carrie and Jess grew up immersed in all things dentistry and business management.
We walk alongside our doctors who are committed to growing their practices in a way that is true to their values and vision. With smart planning, we set goals and develop a plan to help you meet your practice goals.
Our approach to content marketing is targeted and built on value proposition marketing. We help our doctors position their practices as that still, calm voice, providing a haven to patients in the market.
Then, we help our doctors deliver on that trust and build meaningful relationships. We're focused on helping you help your patients, both present and future, by saying yes to the care they need.
Specifically, content marketing creates interest in your services by developing and sharing original online content that appeals to your ideal patients. How does such an approach impact a practice?
The data will do the talking. Let's take a look at specific results for three of our content marketing customers.
Practice A's Results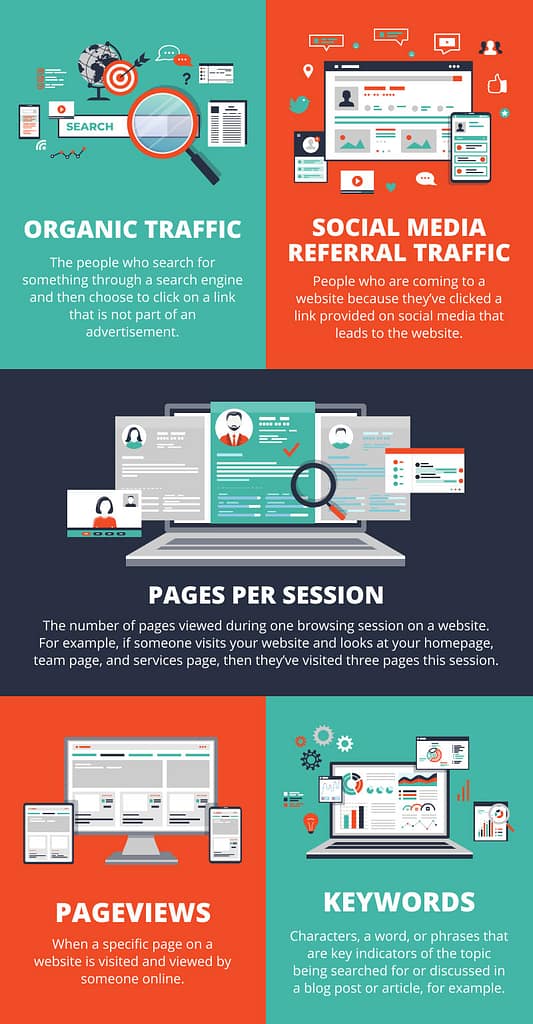 We've changed the practice's name to protect its privacy. All results are from a comparison of data from January 1 through July 22 of 2019 compared to the same exact time period in 2018.
This practice is located in a very competitive area with a dense population. The ad-spend budget to rank keyword terms in this area is quite expensive, but we helped this practice grab its clients' attention without online ads.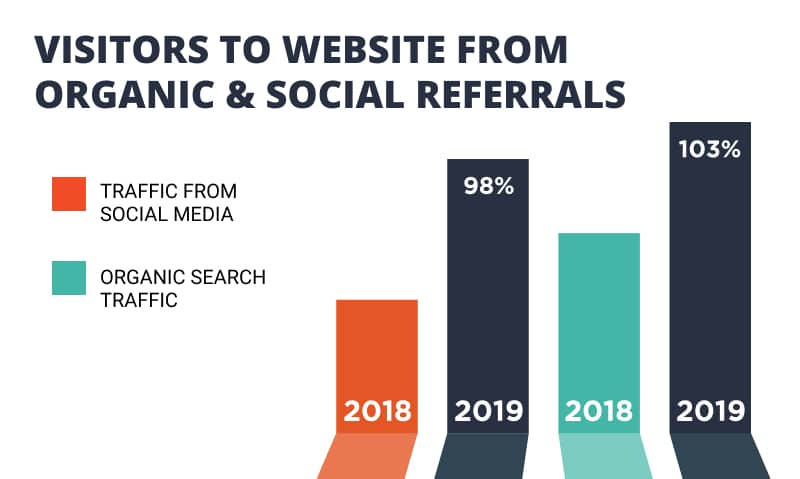 Dental Practice A experienced an increase of 103% in organic search traffic to its website.
Practice A also saw 98% more traffic coming to its website from social media.
During this time, Practice A saw production rates rise by $74,000. That amount was driven through online contact.
The Work Involved
The work the practice hired us to complete started with a website refresh. We rewrote portions of the website copy to better represent the practice, the dental team, and its natural affability. We also highlighted the dentist's areas of specialty.
Additionally, we managed Practice A's social media for them, posting about once per day, Monday through Friday. Letting our data-driven team members loose, we developed a targeted content strategy aimed at helping the practice outrank its competitors. That resulted in the writing, editing, and publishing of four blog posts per month for this practice.
Practice B's Results
Again, we've changed the practice's name to protect its privacy. All results are from a comparison of data from January 1 through July 22 of 2019 compared to the same exact time period in 2018.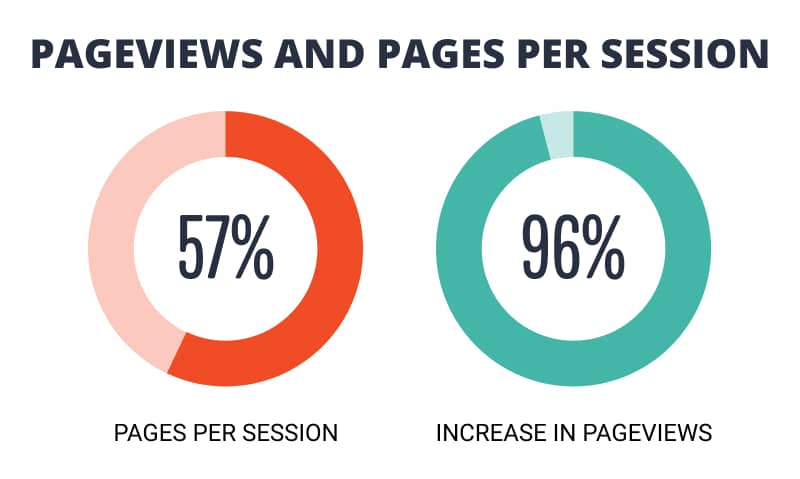 Practice B saw a 96% increase in pageviews, with a 57% increase in pages per session.
The practice also experienced a 292% increase in traffic from social media, which means 292% more people clicked on a social media link to visit Practice B's website.
The Work Involved
We refreshed Practice B's website by changing the homepage and rewriting much of the content. The practice also rebranded with a new name and new logo. We managed Practice B's social media, posting to its accounts about fives times per week.
Yes — content improvement, re-branding, and social media marketing could be useful tools to developing your dental practice.
Additionally, we developed a targeted content strategy aimed at helping the practice outrank its competitors by using keywords the practice indicated were important to what it does for its patients. That strategy included two blog posts per month, which we wrote, edited, and published.
Practice C's Results
Of course, we've changed the practice's name to protect its privacy. All results are from a comparison of data from January 1 through July 22 of 2019 compared to the same exact time period in 2018.
Practice C had an overall 58% increase in the traffic flow to its website. It saw a 190% increase in traffic to its website from social media, as well.
The additional traffic resulted in $44,900 in additional production from new patients driven through online contact.
The Work Involved
An SEO refresh of the website was needed. At the same time, our team developed a strategic content plan aimed at helping Practice C be more competitive in the overall market and outrank its competitors by using its most important keywords.
We managed Practice C's social media, posting about five times per week. We also wrote, edited, and published two blog posts per month, covering topics as outlined in the content plan.
Focusing on Organic Traffic
Organic search: Entering a word, or a string of words, into any search engine and hitting search.
You probably noticed those numbers focused primarily on organic traffic. That's because we don't advocate for large ad-spend budgets. With advertising, you're renting the traffic headed to your website. As soon as you stop renting, that traffic stops.
With organic marketing for developing your dental practice, you're building a long-term marketing plan that will continue to work as long as your website is up, working, and home to the strategic content you've already paid us to write and publish for you. It's more effective and leads to more long-term results than ads, anyway.
Paid search results—you know, the little result when you do a Google search that says "Ad" next to the web address—receive less than 10% of the search traffic. That means they're bad at grabbing people's attention.
But, in comparison, 67% of all traffic goes to the top three organic results. The organic results are those web addresses listed after the ads. They're the calm, whispering voices in the midst of the chaos, saying, "We value your attention and time. We'd be honored if you chose us."
The most important fact you should know is that 8% of all organic traffic results in an appointment request. That means 8% of people who are looking for that calm, professional voice are choosing immediately to book an appointment. When 100 people find you through an online ad, only two or three of those people are going to book an appointment. And think about the cost of getting 100 people to your website through ads.
On average, our content marketing customers experience a 48% increase in traffic to their website in the first six months after hiring us. If you'd like to learn more about the Jameson way of marketing, we'd be happy to discuss it with you.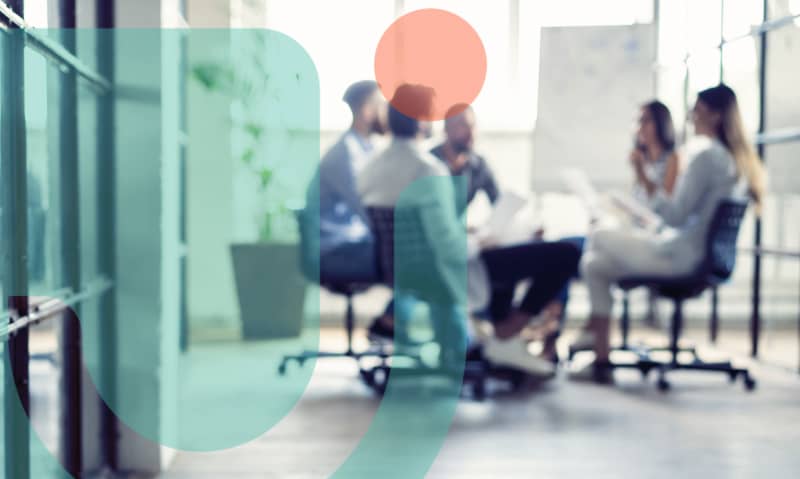 Fine tune your team meetings to get the most out of them and your team. …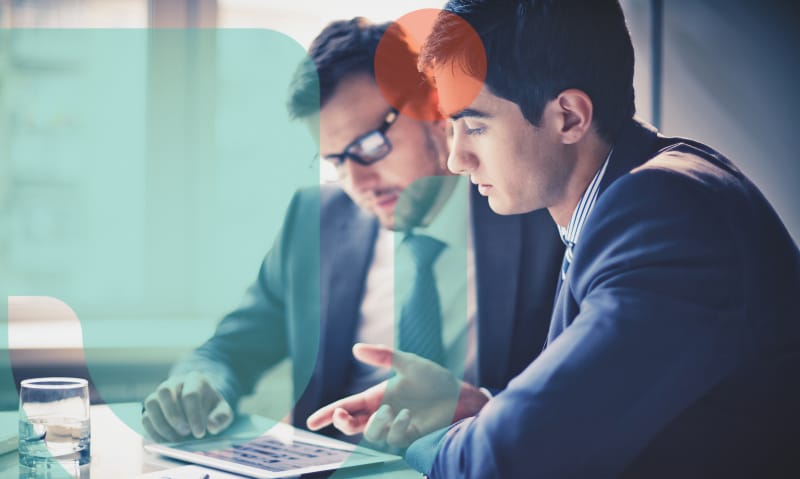 Keep your practice running at its best. Have you heard the old adage, "Time is…