1. Set the tone.
You've done your homework and have chosen to reopen your dental practice. There are a lot of opinions out there, so how do you handle the marketing of reopening? In our experience, if the plan is a solid one and you're abiding by state laws and CDC recommendations, the best tone is warm and welcoming. It's OK to be excited to reopen for more than emergency appointments right now. While you want to show your patient base that you're cautious (more on that later), there's no reason to be anything but excited to see your patients again and provide necessary and excellent dental care.

In light of this, you definitely want your verbiage to make your patients feel welcome. Though you probably have a mile-long list of procedures you are now adhering to, (including check-in social distancing procedures, extra cleaning procedures, and more), if you send out an 18-point list to your patients, they might feel that they are causing you trouble by coming to your practice. It's easier than we think to make potential patients feel like we're not ready for them, causing them to conclude it might be better to wait or go to a more welcoming and ready practice. There's a fine line between cautious and reluctant or unsure. If you've done your homework, there's no reason to feel anything but confident in reopening your dental practice.

Tell them you're taking CDC recommendations and are making some changes, then explain what they need to know to get in the door. Prepare them for some extra time and let them know if they need to bring anything or wait in the car (for social distancing). If your patients are scheduling appointments, then they are happy to see you again!
2. Post to social media.
Pictures of the team are a great idea right now. Make sure the team is wearing masks in the picture to provide reassurance. For other wonderful ideas: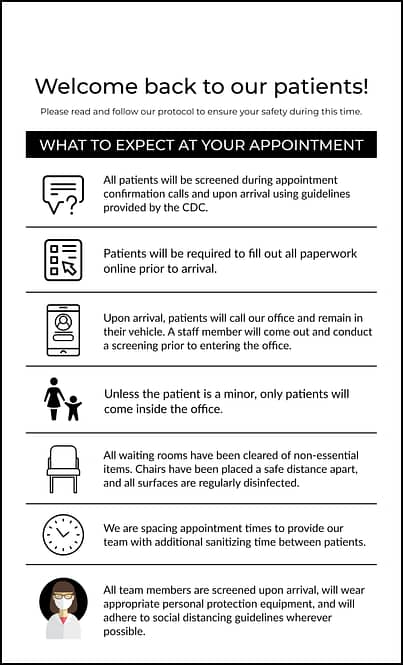 3. Create your reopening sign.
You need a good reopening sign for your dental practice. Some of our clients reached out to us for advice on what their sign should look like and say, so we created this template. Feel free to modify and use it.

Download the dental practice reopening sign template here.
4. Add a COVID procedure and safety page to your website.
This page should mention everything you are doing in line with CDC guidelines or beyond to keep your practice the safest it could possibly be. In contrast to your marketing efforts and communications mentioned in the first point of this blog post, this page is allowed to be a bit more technical and detailed. Contact us if you'd like help with this.
5. Make sure you have a special COVID-related banner on your homepage.
This will go along with your COVID guidelines procedure page and link to the same.
6. Publish some new content!
There has been an explosion of Google searches in the past four weeks related to "dentist near me" and "dentist" due to dentists being closed for everything but emergency appointments (or unfortunately, closed altogether). We have seen our clients' websites quickly overtake competitors by publishing as little as four good blog posts in a two-week period. Usually, this kind of progress takes months.

It's a good time to take advantage of the spike in searches for patients looking for YOU!

For more on why organic marketing works, read this post.

Here are just a few things you can blog about:
How to Talk to Your Kids About COVID-19 and Social Distancing
How Dental Health Affects Your Total Health System
10 Ways to Reduce Stress and Support Your Immune System
7. Post to Google My Business.
Google My Business is the platform that shows content to Google searchers in the results page before they ever even get to your website. It's a fantastic opportunity for business owners to showcase their most helpful content.
Even one Google My Business post with some material related to re-opening (such as the team image or the social media ideas above) will go a long way toward helping your potential patients know you have the lights on and are ready to offer your potential patients premium dentistry. The post should also clue them in that you are practicing safe CDC-recommended guidelines.
8. Tell them why you are the long-term practice of choice for them.
What do you have to offer your patients that the dentist next door does not? Why should they establish a connection with you now that will last long into the future? It's very possible these patients just lost their dental home. How can we help them transition to a new dental home, especially if they were not ready to move away from their previous doctor and practice?
Point out your membership plan, your expertise in chosen specialties, or your comfort techniques. Highlight the long-term benefits your new patients will be able to experience.
Marketing is a long-term game. Besides the fact that you're open and practicing safe guidelines, what other reasons do potential patients have to choose your practice over the other ten nearby?
We hope these marketing tips help you move forward with confidence, sensitivity, and hope to reopen and practice the dentistry you love for the patients you love.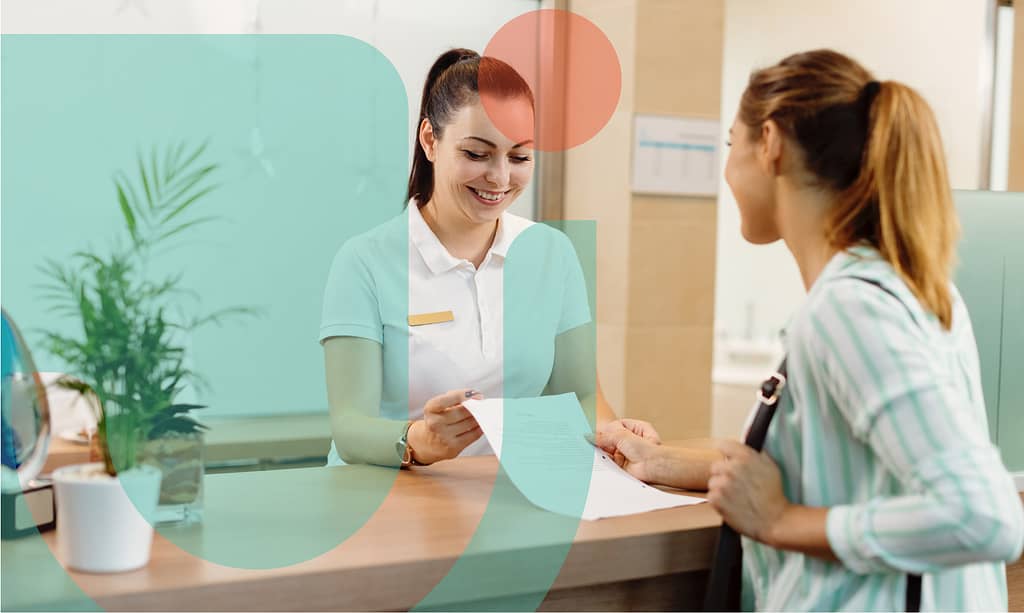 Transforming Chaos Into Consistency Chaos. Uncertainty. Stress. Frustration. Blame. Team conflict. Disengaged patients. Rampant cancellations…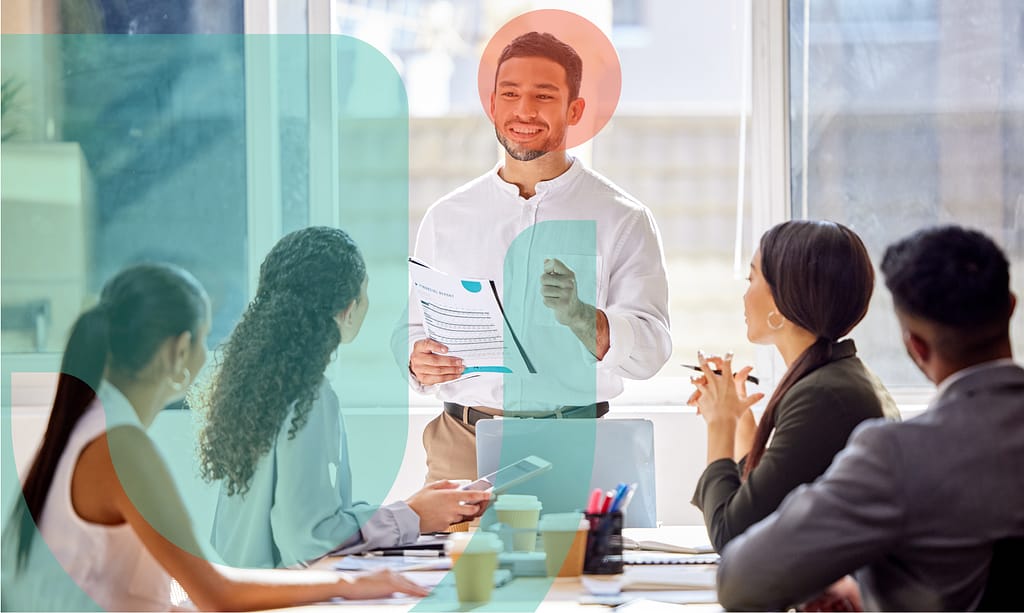 Setting Clear Expectations for Excellence Something that we hear at Jameson time and time again…