Here's how to reward your team members for satisfaction and retention.
A dental practice is only as strong as its team members. When you want to reward yours for doing a great job, a bonus is a great way to do so.
Financial incentives are a great way to motivate your employees and encourage them to continue their great work. However, it's important to approach them the right way.
Today, we're sharing 10 rules to follow when planning your team bonus so you can make sure the process goes smoothly and successfully.
1. Get a clear handle on your finances.
Before planning a bonus structure for your staff, make sure your dental practice is financially stable enough to do so.
Spend some time each month calculating and monitoring your overhead expenses. As you do, keep in mind that one of a dental practice's largest overhead investments is team compensation. If your other overhead costs are too high, then bonuses might not be feasible at the moment.
However, you may be able to free up revenue by taking a closer look at your production and performance capacity. There could be untapped earning potential available within your practice, and this planning session can help you unlock it.
2. Ramp up production wisely.
Adding hours and expanding your services aren't the only ways to grow your dental revenue. Before you begin making major changes to your practice, evaluate your current production schedule. Then, look at your strategies for containing costs, as well as any fees you're paying.
If distributing a bonus seems like it may stretch your practice too thin, consider hiring a dental coach to help you understand your budget and look for ways to increase revenue. Our dental advisors can work with you to find new and inventive ways to boost your bottom line without cutting into your work/life balance.
Dr. Cathy Jameson, co-founder of Jameson Coaching, explains that working with a professional coaching team can help you uncover new efficiencies, without requiring your team members to work overtime or take on additional workloads. As Jameson explains, "We have never worked with a team that could not work more effectively to access anywhere from a 20% increase to a full 100% increase (and sometimes more!) without working any more days or hours."
3. Start with base salaries.
Next, take a closer look at how you've structured your base salaries. Team members should be paid a base salary to perform their specific tasks according to predetermined criteria of excellence.
If they go above and beyond these criteria, then they can receive a financial reward in the form of a bonus. However, it's important to make sure everyone understands the basic expectations that they must meet. If you make changes to the current salary structure, clearly explain them to your staff members before going into the proposed bonus plan.
4. Define exceptional performance goals.
If team members work beyond the criteria of excellence you've established for their base salary, then a bonus would be an appropriate response.
As you set up your base salaries, define the "exceptional performance" goals that the bonus is set up to reward. Does a staff member receive it for creating an innovative, problem-solving solution? What about receiving a certain number of positive patient reviews?
There should be parameters in place to help you gauge when someone reaches that mark. Otherwise, bonuses can become murky and ambiguous..
Without a clear goal to strive for, employees may not know if they're on track to receive a bonus that quarter or not. Make the terms and expectations clear from the beginning so there isn't any confusion.
5. Define the monetary value of the bonus.
Just as the performance metrics for the bonus should be clear, you should also define the specific monetary value of the bonus. As you put this plan into place, remember to keep your current and projected financial status in mind.
It can be tempting to promise the moon, especially if your team is exceptionally hard-working and deserving of the praise. However, you don't want to overextend your budget and wind up retracting the offer. It's best to start modestly now and gradually increase the bonus if funds allow.
6. Communicate the plan to all team members.
All team members should understand what the bonus plan includes. They should also have access to a physical or digital copy of the plan in its entirety.
If they have any questions about any part of the plan, try to answer them as quickly and thoroughly as possible. Especially if you've never implemented such a plan at your practice before, you can anticipate plenty of excitement, as well as possible concerns and uncertainties.
It can be helpful to hold a town hall-style meeting to address the plan and answer general questions as they arise. Or, you may choose to have one-on-one conversations with team members to discuss their personal performance goals.
7. Implement the plan.
All of the plans are in place and your financials are ready. Now, it's time to implement the bonus plan.
Before you launch it, set key performance indicators (KPIs) to define how you'll measure the success of the plan. For instance, do you want 80% of your workforce to earn the bonus within the first quarter?
Keep your timelines clear so all employees know precisely when the bonus incentive starts, as well as when they can expect to receive any additional income they earn.
8. Track results.
As soon as your plan is live, start tracking the results and monitoring how they affect employee performance, motivation, and morale. Together with your leadership team, review and analyze these results regularly to assess how the plan is working and consider any changes you need to make.
9. Be enthusiastic and encourage one another.
A mismanaged bonus plan can feel cutthroat and competitive. This only breeds resentment and usually has a negative effect on productivity. Instead of making it litigious, keep it lighthearted and enthusiastic!
Encourage your team members to strive for their personal goals and cheer one another on as they do so.
10. Celebrate success.
When an employee meets the "exceptional performance" goal and receives a bonus, then celebrate that win with the team! Give them a shout-out in the team newsletter, congratulate them at work, and motivate them to make it a repeat performance.
When everyone shares in the achievement, it encourages others to strive for the same recognition. Again, this should be done in a caring and thoughtful way. The intent is never to shine the spotlight so much on one person that it makes everyone else feel dim.
When you work together to build everyone up, the result will be a motivated, hard-working team that routinely surpasses goals and shatters expectations.
Create a team bonus structure that works.
When implemented correctly, a team bonus can be an ideal incentive. As you follow the 10 steps above, keep your team members top of mind. Consider the strategies that would benefit them the most and keep them in the loop as you roll out the plan.
Looking for assistance as you take this next step? We offer comprehensive dental consulting services to help you nurture your team and grow your practice in a sustainable way. Contact us today to learn more and get started.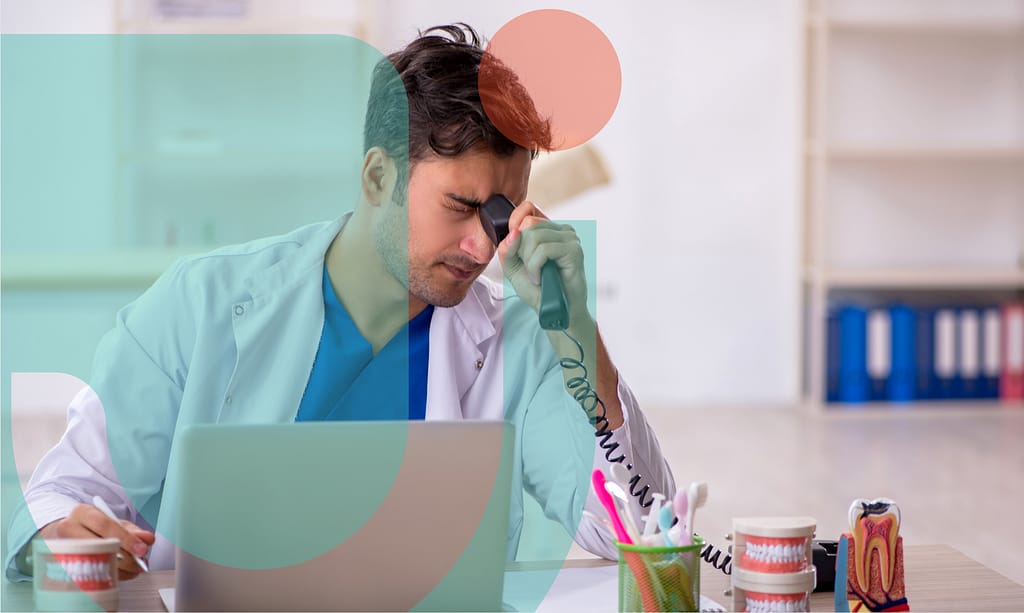 How Workplace Stress Affects Your Dental Practice Growth With the right team members, it's possible…
Why Patient Texting Is Becoming the Name of the Game in Patient-Doctor Communication In today's…
LATEST BLOGS